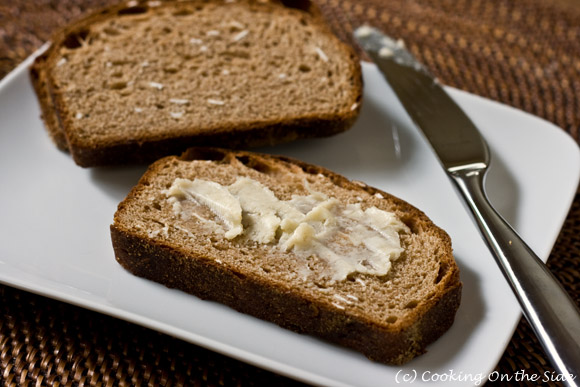 [tweetmeme] Happy New Year! I hope it's off to a great start for all of you. In our house, we've had much cause to celebrate, with the birth of our new baby boy right before Christmas. He arrived a few weeks ahead of schedule which was a relief because we could hardly wait to meet him. His two-year-old big sister loves him already, doling out more hugs and kisses than he can handle. Oh we're quite sleep-deprived and I'm not going to be able to cook quite as often for a little while, but right now we couldn't be happier.
With family members flowing in and out lately to meet the new guy and help out I have managed to grab pockets of time in the kitchen – including a little baking session to make this Honey Oatmeal Bread recipe I found on a package of vital wheat gluten. It makes two loaves which is great because I could slice one up for breakfast toast this week and freeze the other to save for after all the help leaves.
The whole wheat flour and oats make the bread hearty, with a texture that is actually lighter than I'd expected. The gentle sweetness from the honey gives the bread great flavor on its own, but I've been topping it with a little honey cinnamon butter anyway. I figure I deserve it. 🙂
P.S. I'm submitting this recipe to this week's Yeastspotting roundup.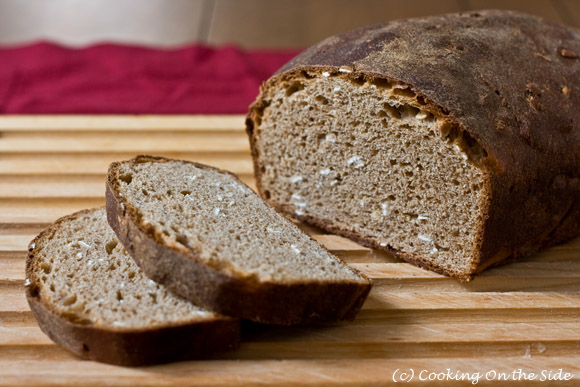 Honey Oatmeal Bread
From the back of the Bob's Red Mill Vital Wheat Gluten package
Makes 2 loaves
INGREDIENTS:
4-1/2 to 4-3/4 cups whole wheat flour
2 tablespoons vital wheat gluten
3 packages active dry yeast
2 cups milk
1/3 cup honey
1/4 cup cooking oil
1 tablespoon salt
1/2 cup Scottish oats
DIRECTIONS:
In a large mixer bowl, combine 2 cups of the flour and the yeast. In a saucepan, heat milk, honey, oil and salt just till warm (115-120°F). Add to dry mixture in mixer bowl. Beat at low speed with electric mixer for 1/2 minute, scraping sides of the bowl constantly. Beat 3 minutes at high speed. By hand, stir in oats, gluten and enough of the remaining flour to make a stiff dough.
Turn out onto a lightly floured surface and knead till smooth and elastic (8 to 10 minutes). Shape into a ball. Place in lightly greased bowl, turning once to grease surface. Cover; let rise in a warm place until double (about 45 minutes).
Punch dough down; turn out on lightly floured surface. Divide in half. Cover; let rest 10 minutes.
Shape into two loaves; place in two greased 8-1/2 x 4-1/2 x 2-1/2″ loaf pans. Cover; let rise in warm place till double (about 30 minutes).
Bake at 375°F for 35 to 40 minutes. Remove from pans; cool on wire rack.