I was leafing through the Dean & DeLuca Valentine's Day catalog that arrived in the mail last week when my eyes stopped on a lovely set of heart-shaped rice krispies treats. They were decorated beautifully in royal icing…and the box of six was priced at $42. Six treats for $42. That's $7 per treat. If you add shipping, which is $11.50, that's $8.92 per treat.
Be still my rice krispies heart.
With all due respect to Dean & DeLuca – truly, I order gifts from them often – these are rice krispies treats…three-ingredient confections you can find, with very little variation, at any scout meeting/play date/bake sale across the country.  Now, the ones they're selling for $7 each plus shipping are nearly 2 inches thick, very even, impeccably adorned – the nicest ones you'd expect to see at any bake sale. But for about 45 cents each (I did the math!) and part of a weekend afternoon you can make really nice Valentine's Dipped Rice Krispies Treats at home. And have fun doing it.
Following the basic recipe from the back of the Rice Krispies box, I simply spread out the cereal and marshmallow mixture in a large pan (I mixed in some sprinkles to be extra festive) and cut out heart shapes. I was inspired by Mel from Mel's Kitchen Cafe to dip the edges of the treats in candy melts and add more sprinkles. While I dipped, my 4-year old was hard at work pressing on the sprinkles. I doubt we could get $7 for each of our hearts, but the satisfaction of making them ourselves was priceless.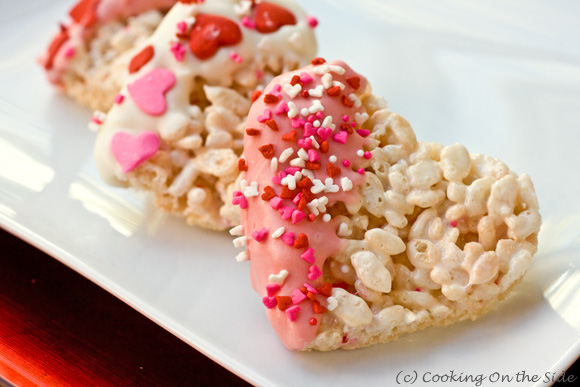 Valentine's Dipped Rice Krispies Treats
Adapted slightly from the Rice Krispies Treats recipe on the side of the Kellogg's Rice Krispies cereal box
Prep time: 1 minute | Cook time: 20 minutes | Total time: 21 minutes (plus cooling time)
Yield: 20-24 treats
INGREDIENTS:
3 tablespoons

margarine or butter (I always use butter)

1 package (10 oz)

regular marshmallows or 4 cups miniature marshmallows

6 cups

crisped rice cereal (aka Rice Krispies)

Candy melts or white chocolate chips

Food coloring, if desired

Sprinkles, of course
DIRECTIONS:
Melt the margarine or butter in a large saucepan over low heat. Add the marshmallows and stir until completely melted. Remove from heat.
Mix in the crisped rice cereal. Stir until well coated.
Spread the mixture using a buttered spatula or waxed paper evenly into an 11×17-inch rimmed baking sheet coated with cooking spray. Cut the treats into heart shapes with a 2- 3-inch cookie cutter (enjoy the scraps!) when cool.
Melt the candy melts or white chocolate chips according the package directions. Stir in a few drops of food coloring, if you'd like. Dip the edges of the treats into the candy and decorate with sprinkles. Allow the candy to cool and set before serving.
Best if served the same day.