I have happy childhood memories of trips to the cookie shop that opened up in our mall at some point in the '80s called Blue Chip Cookies. Does anyone remember them? Their storefront was set up just like Mrs. Fields, with a case of fresh baked cookies, but they claim to be the first to innovate with the white chocolate macadamia variety in the United States. These new cookies were a revelation, to me. They became my standard cookie order, while my old standby semi-sweet-without-nuts from Mrs. Fields took a backseat. I felt all grown up and fashion-forward for my taste in cookies.
Today, White Chocolate Macadamia Cookies are a little retro. You don't see them quite as often as you used to. I haven't seen Blue Chip stores in years (they're now primarily a mail order business). But a great-tasting cookie never goes out of style. The cookies from this recipe, from the back of the Ghirardelli White Chips package, are just as yummy as my ten-year-old self remembers.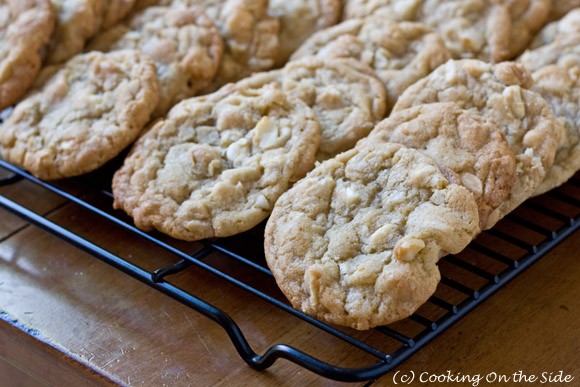 White Chocolate Macadamia Cookies
From the Ghirardelli Macadamia White Chip Cookies recipe on the back of the Ghirardelli Classic White Chips package
Prep time: 20 minutes | Cook time: 36 minutes | Total time: 56 minutes
Yield: 5 dozen cookies
INGREDIENTS:
1 cup (2 sticks)

unsalted butter, softened

1 1/2 cups

granulated sugar

1 cup

brown sugar, packed

2

eggs, room temperature

1 1/2 teaspoons

vanilla extract

3 cups

unsifted flour

1/2 teaspoon

baking soda

1 teaspoon

salt

2 cups (11 oz. bag)

white chocolate chips

1 1/2 cups

Macadamia nuts, chopped
DIRECTIONS:
Preheat the oven to 350°F.
Cream the butter and sugars until fluffy. Add the vanilla and eggs, one at a time, and beat well. Blend in the flour, baking soda and salt. Stir in the white chips and nuts.
Drop by teaspoon onto ungreased cookie sheets (or lined with parchment). Bake for 10-12 minutes.