I officially have a sweet tooth…or so the new diet and exercise app I recently downloaded to my iPhone tells me. Day after day for the past week, as I've logged everything I've been eating and drinking, MyFitnessPal has been telling me that I've consumed more than double my daily recommended volume of sugar. It gets worse…I've usually exceeded my recommended volume by the end of breakfast. Talk about eye-opening!
Just to be clear, it's not like I'm eating Double Chocolate Cookies for breakfast or anything like that. My main culprit has been orange juice. As it turns out, a single 8-ounce glass of my favorite OJ that I've been drinking for years delivers 69% of the amount of sugar I'm supposed to have in a day. Add in a piece of fruit and – BAM – I'm over my sugar limit by 8:30 AM. Granted, I'm pretty sure that natural sugar from fruit isn't as bad as refined sugar but still…I had no idea.
The good news is 1) I'm now much more aware of my sugar intake thanks to this app (and thanks to my friend Dara from Cookin' Canuck for first introducing it to me through her recent post) and 2) with this awareness I can now make better eating decisions. I cannot bear to completely eliminate from my diet rich, gooey, brownie-like chocolate cookies like the ones I'm sharing today from Ghirardelli. But I'm now able to do a better job of determining what "moderation" looks like. If I indulge in one of these bad boys, that's pretty much my treat for the day.
Have your cookie and eat it too! But if you need a little help with keeping your sweet tooth in balance, especially with Halloween and the holidays fast approaching, you might consider an app like MyFitnessPal (and no, I have no connection with this company whatsoever – I'm just a happy customer!).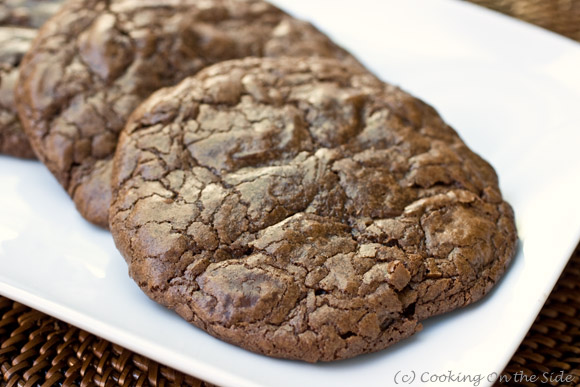 Double Chocolate Cookies
From the Ghirardelli Double Chocolate Cookies recipe inside the Ghirardelli Semi-Sweet Chocolate Baking Bars wrapper.
Prep time: 15 minutes | Cook time: 28 minutes | Total time: 43 minutes
Yield: 12 cookies
INGREDIENTS:
2 bars (8 ounces)

semi-sweet chocolate baking bars, broken into 1″ pieces

3/4 cup

brown sugar, packed

1/4 cup

butter, softened

2

eggs

1/2 teaspoon

vanilla extract

1/2 cup

flour

1/4 teaspoon

baking powder

1 cup

60% cacao bittersweet chocolate chips

2 cups

walnuts, chopped (optional)
DIRECTIONS:
Preheat the oven to 350°F.
Using a microwave-safe container, place the chocolate in a microwave oven at medium power (50%) for 1 to 1 1/2 minutes. Remove and stir. If it's not melted, return it to the microwave and repeat the heating step, stirring every 30 seconds, as scorching can occur. When small lumps remain, remove and continue to stir to complete the melting.
Stir in sugar, butter, eggs and vanilla.
In a separate bowl, stir the flour with the baking powder.
Add the flour mixture to the chocolate mixture, mixing well. Fold in the chocolate and the nuts.
Drop by the 1/4 cupful onto an ungreased (or parchment-lined) baking sheet. Bake for 12-14 minutes. Cool for 1 minute on the baking sheet; remove to wire cooling racks.