If you've never had pho, I was right there with you until just a few weeks ago. I knew it was a Vietnamese soup (the national dish of Vietnam, it turns out), that it was pronounced "fuh" rather than "foe" and that a lot of people really love it. Like love it.
Happily, pho is no longer a mystery to me. I have now tried it both at a restaurant (Nam An in Kearny Mesa, which came highly recommended by Twitter friends) as well as at home, using an organic pho starter from Pacific Natural Foods. What I enjoyed most about both versions were the bold, complex flavors of the broth and the myriad of condiments – bean sprouts, lime, chiles, culantro to name a few – that you can add in with your chicken and rice noodles to customize each spoonful. It's such an incredible comfort food.
I wasn't sure if the prepared broth – albeit an organic one without any preservatives – would measure up to the kind I'd find in a well-regarded Vietnamese restaurant. But I was definitely game to put it to the test. Read on for my comparison of the Easy Chicken Pho I made with the Pacific starter versus the restaurant version plus the chance to win a Pho Starter Kit.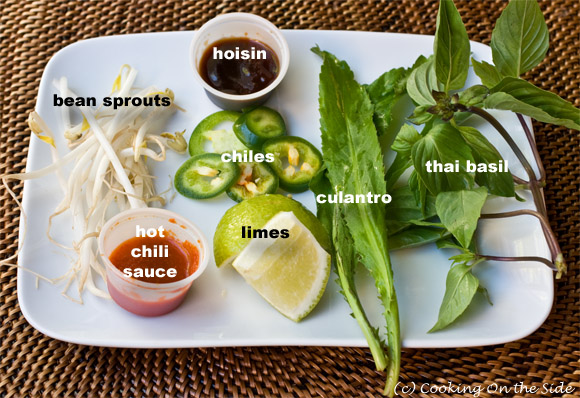 When it comes to broth, I believe homemade is best…but it's not always the most convenient. It can take eight to ten hours to make a really good, flavorful-yet-clear pho broth (although there are recipes that require less time). The broth from Nam An was very rich and robust – the warm flavors and aromas of anise, ginger and cinnamon were just heavenly. The pho starter from Pacific was a bit milder but still very flavorful and aromatic. Often prepared stocks are really salty but in this case the starter seemed to have considerably less salt than the restaurant version. A flavorful organic broth that can be turned into delicious pho within 20 minutes and cuts back on the sodium sounds like a pretty nice option to me.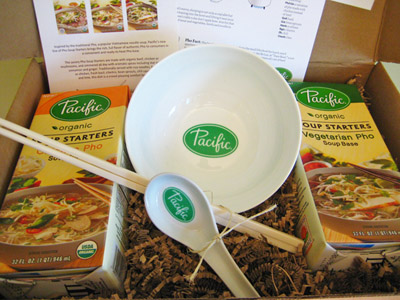 ** Win a Pho Starter Kit from Pacific Natural Foods! **
Pacific Natural Foods would like to send one Cooking On the Side reader a Pho Starter Kit, which includes two organic soup starters, a soup bowl and spoon and chopsticks.
Here are four ways to enter – you can do any or all of them (please leave separate comments for each entry): [THE GIVEAWAY IS NOW CLOSED]
Leave a comment on this post sharing your all-time favorite soup.
"Like" Cooking on the Side on Facebook
Follow me @paninikathy on Twitter
The giveaway will close Monday, October 31, 2011 at noon PDT. I will use random.org to select one winner to receive the Pho Starter Kit and announce the winner in this post. This giveaway is open to U.S. residents only.
**UPDATE 11/1/11 – Congrats to our winners, #33 Pat R and #41 Catie (Pacific Natural Foods offered up a second prize, so we have two winners!)!
Pacific Natural Foods provided me with a Pho Starter Kit  to use in evaluating their product and is sponsoring today's giveaway. All opinions expressed are, as always, entirely my own.