Whew! As much fun as Thanksgiving cooking was, I'm actually kind of glad to switch over to other late-autumn treats (if you're looking for some good leftover turkey ideas, check out the leftover panini recipes on my other food blog – Panini Happy). Cookies call my name all year round, and as we enter part 2 of "the holidays" I find oatmeal cookies with dried cranberries and white chocolate chunks especially irresistible.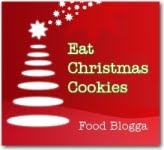 This recipe makes a good number of cookies (especially if you make them a little on the small side, like I did) which makes it possible to eat a few out of the oven, save a few to have around the house and still have enough left over to freeze and share later. At least that was my original intent – I have to admit I've already tapped into the "freeze and share later" stash. I'm hopeless!
I'm submitting these cookies to the Eat Christmas Cookies roundup on Food Blogga. Have Christmas cookies you'd like to share? You can find out how to participate here.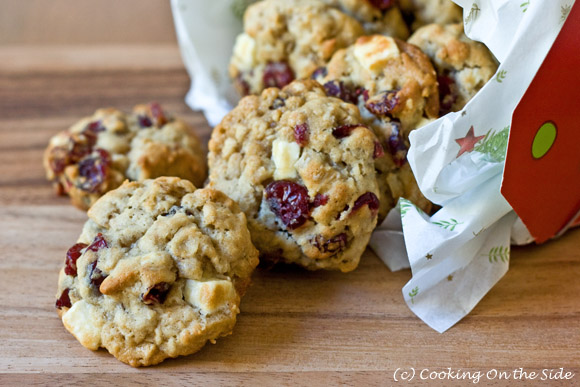 Oatmeal Cranberry White Chocolate Chunk Cookies
From the back of the Craisins Sweetened Dried Cranberries package
Makes approx. 2-1/2 dozen cookies
INGREDIENTS:
2/3 cup butter or margarine, softened
2/3 cup brown sugar
2 large eggs
1-1/2 cups old-fashioned oats
1-1/2 cups flour
1 teaspoon baking soda
1/2 teaspoon salt
1 6-ounce package sweetened dried cranberries
2/3 cup white chocolate chunks or chips (~ 4-ounce bar, chopped)
DIRECTIONS:
Preheat oven to 375°F.*
Using an electric mixer, beat butter or margarine and sugar together in a medium mixing bowl until light and fluffy. Add eggs, mixing well. Combine oats, flour, baking soda and salt in a separate mixing bowl. Add to butter mixture in several additions, mixing well after each addition. Stir in sweetened dried cranberries and white chocolate chunks.
Drop by rounded teaspoonfuls onto ungreased cookie sheets. Bake for 10-12 minutes or until golden brown. Cool on wire rack.
* I opted to chill the dough overnight before baking.