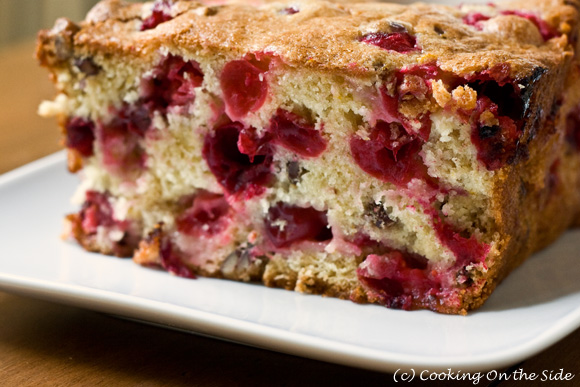 Well, it's a good thing I like cranberries.
What did your junior high home ec teacher always tell you to do before you started to prepare a recipe? Read it first. Not just give it a quick scan, but actually read it through so you understand what you're about to do. For some reason, that lesson never quite sunk in with me. I still routinely skim the directions and good percentage of the time that means a degree of improvisation somewhere in the middle of my cooking. Making this Cranberry Nut Bread recipe from a package of cranberries was one of those times.
With this recipe, I assumed (and we all know what happens when you assume) that it used the entire bag of cranberries, whole – just like the Cranberry Sauce recipe I previously made from the same package, and just like with chocolate chip cookie recipes you find on the package of morsels. Turns out the Ocean Spray folks actually suggest you use less than the entire bag of berries and to chop them. Cranberries are rather tart, after all, and in hindsight it does makes some sense to be a little measured in your approach with them. Of course, by the time I realized this everything was mixed and poured into the loaf pan. Oopsie!
So my bread is a bit more cranberry-y than expected. I still enjoyed it!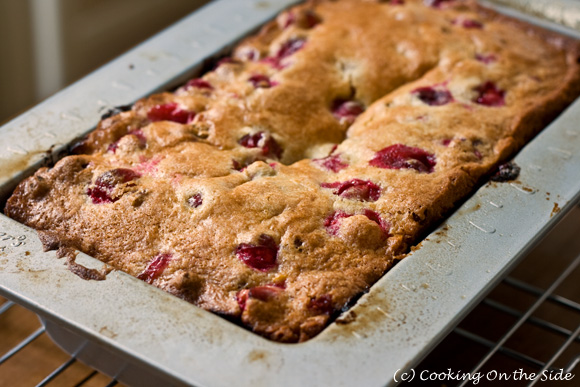 Cranberry Nut Bread
From the back of the Ocean Spray Fresh Premium Cranberries package
Makes 1 loaf
INGREDIENTS:
2 cups flour
1 cup sugar
1 1/2 teaspoons baking powder
1 teaspoon salt
1/2 teaspoon baking soda
3/4 cup orange juice
2 tablespoons vegetable oil
1 tablespoon grated orange peel
1 egg, well beaten
1 1/2 cups fresh or frozen cranberries, coarsely chopped *
1/2 cup chopped nuts
DIRECTIONS:
Preheat oven to 350°F.
Grease a 9 x 5-inch loaf pan. Mix together flour, sugar, baking powder, salt and baking soda in a medium mixing bowl. Stir in orange juice, oil, orange peel and egg. Mix until well blended. Stir in cranberries and nuts. Spread evenly in loaf pan.
Bake for 55 minutes or until a toothpick inserted in the center comes out clean. Cool on rack for 15 minutes. Remove from pan; cool completely.
* Alternatively, for real cranberry fans, you can do what I did and add an entire 12 oz. package, whole.