Three years ago this week I decided to branch out from panini-making a bit and start this blog "on the side". I hoped to discover some hidden gems among the recipes I found printed on the food labels in my kitchen…I wound up finding a real treasure trove.
To celebrate Cooking On the Side's blogoversary (blog birthday, whatever you like to call it) I thought I'd share with you my Top 9 Favorite On-the-Side Recipes from the past three years. These are dishes that have either become instant favorites, like last week's Yogurt Mixed Berry Pie, or that have become my go-to recipes that I make all the time now. It was a challenge to narrow the list down to just these nine – here they are, in no particular order: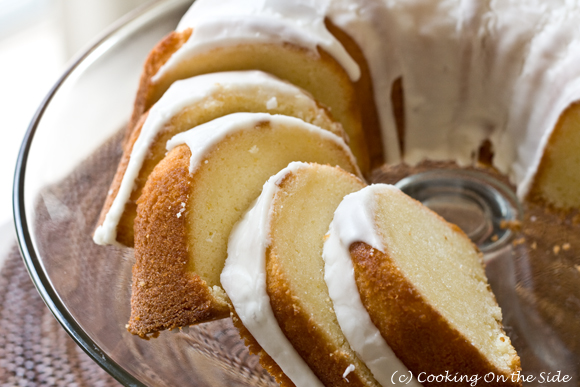 Meyer Lemon Whipping Cream Pound Cake (adapted slightly from the Swan's Down Cake Flour box)
I originally described this pound cake as "the lightest, most velvety, lemony pound cake I've ever tasted" and I still stand by that. I loved this cake so much I baked several back-to-back for last year's Food Blogger Bake Sale (by the way, this year's sale is coming up on April 28, 2012 – find one in your city here).
Vanilla Glazed Baby Carrots (adapted from the back of the Trader Joe's Baby Carrots package)
These glisteningly sweet vanilla-glazed carrots were from one of my very first posts on Cooking On the Side. They have become my go-to side dish for special occasions as well as for everyday. Even my vegetable-avoidant two-year-old will eat these!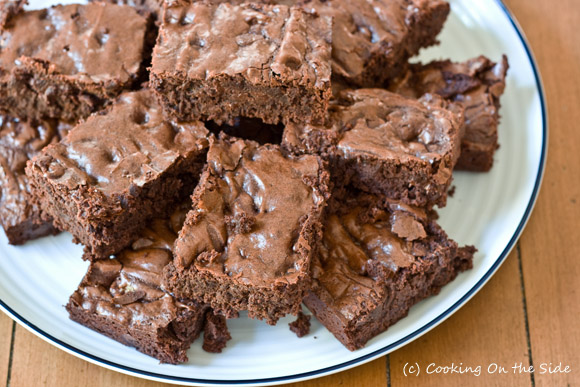 Best Fudge Brownies Ever (from the back of the King Arthur Unbleached All-Purpose Flour package)
It's an enormous statement to call anything the "best ever", but these brownies so deserve the title. From the shiny, crackly surface to the melted chocolate bits interspersed to the ease of removal from the pan these brownies, from a recipe by King Arthur Flour, are still the best I've ever made.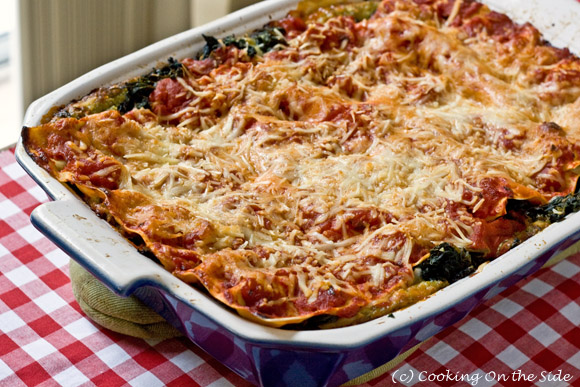 Spinach-Pesto Lasagna (from the back of Ralph's Shredded Mozzarella cheese)
Ho-hum photo aside, this recipe makes a fantastic vegetarian lasagna. It's tough to see, but inside are layers of chopped spinach and pesto tossed with ricotta, mozzarella and parmesan cheese. With no-bake lasagna noodles, it all comes together relatively quickly. This one is now in our regular dinner rotation.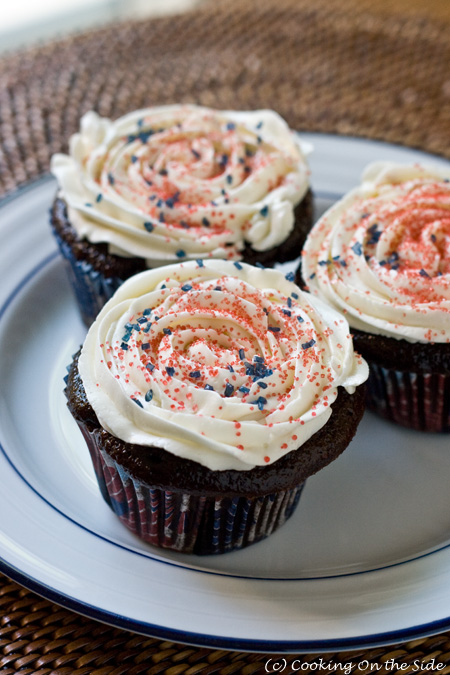 Good Old-Fashioned Chocolate Cupcakes (from the back of the Hershey's Cocoa package)
I made this cake recipe for my son's second birthday a few months ago – my sister told me it was the best chocolate cake she'd ever tasted (and my family knows from cake). The batter is so runny, you have to ladle it into the cupcake wells – but it magically bakes up into super moist, practically pillowy cake. I need to work on a vanilla version of this recipe!
Japanese Pork Cutlets (adapted from the Pork Cutlets recipe on the side of the Kikkoman Katsu Sauce bottle)
This recipe for Pork Katsu, with its crispy panko bread crumb crust, went immediately into my regular dinner rotation. It's delicious, economical, comes together in 30 minutes or less and everyone in my house will eat it.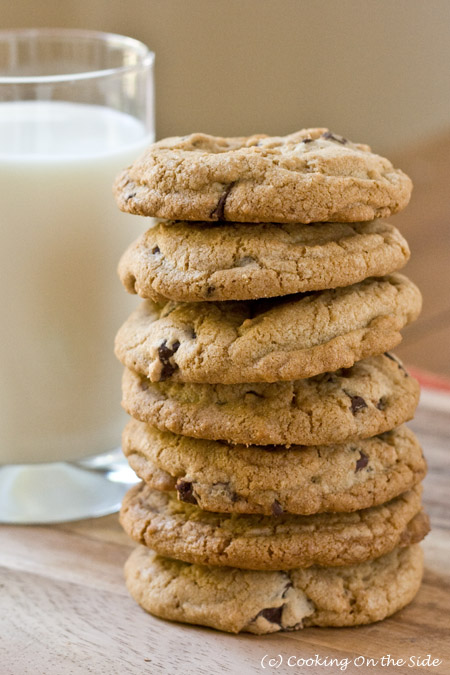 Chewy Chocolate Chip Cookies (from the back of the Barry Callebaut Chocolate Chunks package)
This is actually my second-favorite chocolate chip cookie recipe. My favorite chocolate chip cookie recipe is the famed one from the New York Times. However, that one requires 24 to 36 hours of resting time (which is well worth the wait). When I need cookies right away, this fabulous thick, chewy recipe from Barry Callebaut is the one regularly I turn to.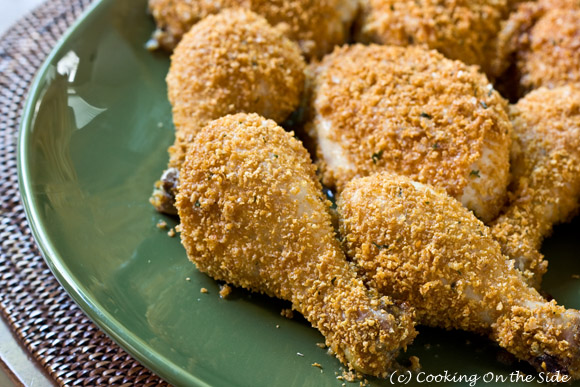 Crispy Baked Chicken (adapted slightly from the Corn Crisped Chicken recipe on the back of the Kellogg's Corn Flake Crumbs box)
There's nothing "gourmet" about cornflake crusted baked chicken, but I feel no shame in saying it's one of my favorites. You get a hint of sweetness from the cornflake crumbs which I love with the savory herbs and drizzle of butter over the top. I can assemble the chicken in minutes and let it bake for an hour on its own, which has made it an excellent weeknight meal option for us.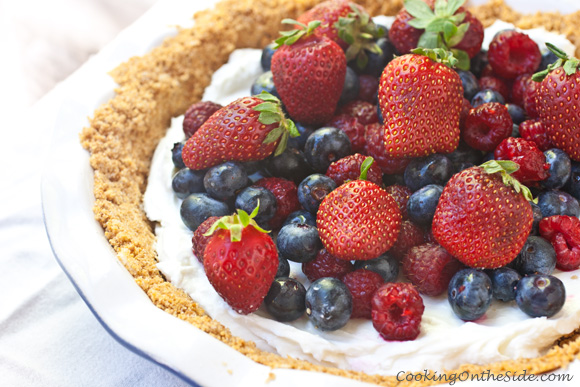 Yogurt Mixed Berry Pie (Graham Cracker Crust recipe from the back of the HONEY MAID Graham Cracker Crumbs package; pie recipe from the side of the Plain 2% Chobani Greek Yogurt package)
Yes, I only posted this pie just last week but it's earned itself an automatic place on my favorites list. It's like a softer-style cheesecake, made from strained Greek yogurt, set in a graham cracker crust and topped with fresh berries. Love at first bite, as they say!
* * *
Thanks so much to all of you for stopping by this little section of the blogosphere over the past three years!