The folks at King Arthur Flour call these their "Best Fudge Brownies Ever". Pretty big talk, don't you think? As one who enjoys a good brownie I was definitely game to bake up a batch and see for myself. Did they live up to all the hype?
Well, that depends on how you like your brownies.
If you think brownies ought to be rich and chocolatey, dense and chewy… if a shiny, crackly surface that begs to be broken through with a deftly-wielded serrated knife (or just your eager mitts) is at all inviting to you… if the sight and feel of soft, melted pockets of semi-sweet chocolate cropping up intermittently like decadent little presents makes you stop whatever you're doing to sit down and savor the goodness …and if, from a highly practical standpoint, you value the ability to remove all of this wonderfulness quickly and easily from its baking pan without any sticking at all…then YES, you will conclude, as I did, that these are, in fact, the BEST FUDGE BROWNIES EVER!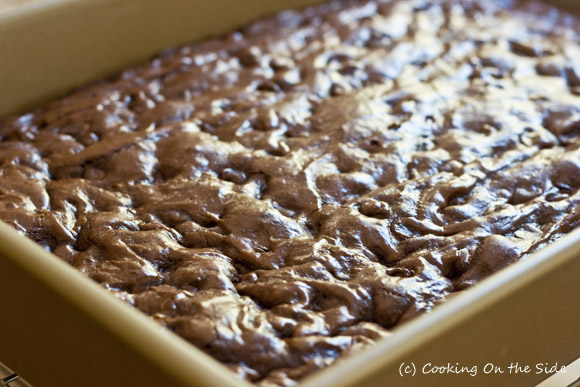 The Best Fudge Brownies Ever
From the back of the King Arthur Unbleached All-Purpose Flour package
Makes 2 dozen brownies
INGREDIENTS:
1 cup (2 sticks) unsalted butter
2 1/4 cups sugar
4 large eggs
1 1/4 cups Dutch-process cocoa
1 teaspoon salt
1 teaspoon baking powder
1 tablespoon vanilla extract
1 1/2 cups flour
2 cups chocolate chips
DIRECTIONS:
Preheat the oven to 350°F. Lightly grease a 9 x 13-inch pan.
In a medium-sized microwave-safe bowl, or in a saucepan set over low heat, melt the butter, then add the sugar and stir to combine. Return the mixture to the heat (or microwave) briefly, just till it's hot, but not bubbling; it'll become shiny looking as you stir it. Heating the butter and sugar a second time will dissolve more of the sugar, which will yield a shiny top crust on your brownies. Transfer the mixture to a mixing bowl.
Stir in the cocoa, salt, baking powder and vanilla. Add the eggs, beating till smooth; then add the flour and chips, beating till well combined. Spoon the batter into the prepared pan.
Bake the brownies for 28 to 30 minutes, until a cake tester inserted into the center comes out dry (though it may have a few crumbs clinging to it). The brownies should feel set both on the edges, and in the center. Remove them from the oven, and after 5 minutes loosen the edges with a table knife; this helps prevent the brownies from sinking in the center as they cool. Cool completely before cutting and serving.