On a Friday night a few weeks ago, five friends and I put on some makeup (for a change), kissed our husbands and babies goodnight and went out for a relaxing and enjoyable girls night dinner. With wine! Although we've gotten together almost every week for the past year it was actually the first time we'd met up without the kiddies. I can't believe we didn't think of doing this sooner – it was so nice to finally sit down and catch up in relative peace.
When it came time to order, all six of us each ordered steak. One friend and I had the steak frites (because I find it impossible to bypass menu items that come with fries) while the rest ordered steak salads. I definitely felt a tinge of guilt over this. But not enough to change my order.
Our food came out and I was very pleased with my choice – the New York strip was cooked nice and medium-rare, just how I like it. And you know those salad girls all picked at my fries! But I had to admit, something inside me secretly wished I could have displayed a little bit more willpower to resist the fries and enjoy the healthier salad instead.
So when I found this recipe for a Grilled Steak Tabbouleh Salad on a package of beef this week I thought I might redeem myself a little. Aside from the overnight marinade it was a relatively quick, flavorful dish to put together. I was enticed by the fact that the steak would be set atop fresh and zesty tabbouleh, rather than greens, as it seemed a bit more substantial than some other salads. I'm proud to say I got to enjoy my steak and didn't miss the fries one bit.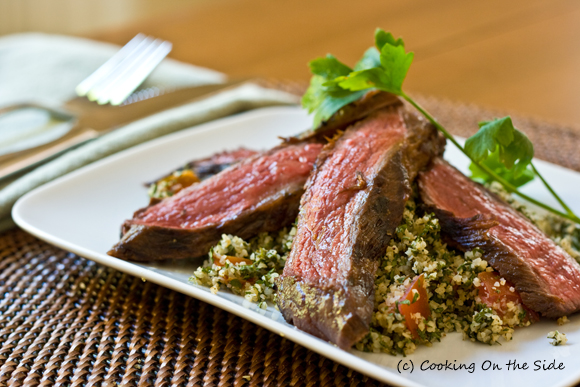 Grilled Steak Tabbouleh Salad
Adapted from the Grilled Beef & Tabbouleh Salad recipe on a package of top round steak
Serves 4
INGREDIENTS:
1 beef top round steak, cut 3/4″ thick (about 1 lb.)
1/3 cup fresh lemon juice
1/4 cup extra virgin olive oil
1/4 cup finely chopped fresh parsley
1 package (5.25 to 6 oz.) tabbouleh mix
1 cup chopped seeded tomato
DIRECTIONS:
Combine lemon juice, oil and parsley in a small bowl. Cover and refrigerate 1/3 cup for tabbouleh. Place beef steak and remaining lemon juice mixture in food-safe plastic bag; turn steak to coat. Close bag securely and marinate in refrigerator 6 hours or as long as overnight, turning occasionally.
Up to 1 hour before serving, hydrate tabbouleh mix with boiling water according to package directions, omitting any oil. (Do not proceed with package directions beyond this point). Add tomato and 1/3 cup reserved marinade to hydrated tabbouleh; stir to combine. Set aside.
Remove steak from marinade; discard marinade. Place the steak on grill over medium, ash-covered coals (or a grill pan over medium-high heat). Grill, uncovered, 8 to 9 minutes for medium rare doneness, turning occasionally. (Do not overcook.)
Carve steak into thin slices; season with salt and pepper, as desired. Serve over tabbouleh.