By the time my husband and daughter returned from their afternoon outing yesterday at the neighborhood playground our house was filled with the comforting aromas of garlic-roasted Cornish game hens. They knew they were in for a real treat.
Ever since I first spatchcocked Cornish game hens on my panini grill I've been a big fan of these little gals. They roast so quickly and are just as juicy and flavorful as their larger counterparts.  So when I found a recipe for what sounded like a zesty, flavorful garlic-lime chicken marinade on the side of a garlic powder bottle, I immediately nixed the boneless, skinless chicken breasts it called for in favor of hens. Instead of garlic powder, dried cilantro and lime juice I freshened things up a bit with fresh garlic and cilantro and lime zest.  These aromatics tucked under the skin gave the hens a real zing, while the cumin and cayenne pepper in the rub added a welcome touch of smoky heat.
I'm sure the original recipe would have been delicious too, but my version is a bit more to my taste. With some savory Mexican rice on the side this was a meal anyone would look forward to coming home to.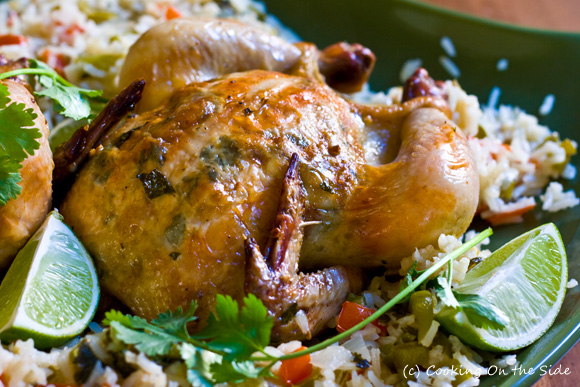 Garlic-Lime Cornish Game Hens
Inspired by the Garlic-Lime Chicken recipe on a bottle of McCormick California Style Garlic Powder with Parsley and the Roasted Orange-Herb Game Hen recipe on Epicurious
Serves 4
INGREDIENTS:
3-4 cloves garlic, minced (depending on your personal taste)
1 tablespoon chopped cilantro
1 tablespoon grated lime zest
1/4 teaspoon cumin
1/4 teaspoon cayenne pepper
1/4 teaspoon salt
2 Cornish game hens (approx. 1-1/2 lbs each), thawed (if necessary) and patted dry
2 tablespoons butter, melted
1 cup reduced-sodium chicken stock
DIRECTIONS:
Preheat the oven to 450°F.
Combine garlic, cilantro, lime zest, cumin, cayenne pepper and salt in a small bowl. Slide your fingertips under the skin of the hens to loosen. Spread half of the herb mixture under the skin of each hen. Brush butter onto the skin; season with coarse salt and pepper. Tie the hens' legs together with kitchen twine or create small slits in the skin near the cavity (as I did – see the photos) and insert the ends of the legs through the slits. Place hens in a shallow roasting pan.
Roast hens until golden and cooked through (when an instant read thermometer registers 170°F  – 175°F at the thickest part of the thigh), adding broth after 10 minutes and basting twice throughout the cooking time, about 30 minutes. Transfer the hens to a platter and let stand for 10 minutes. Serve with Mexican Rice, if desired.