"Want French toast!"
Try as I might, I could not convince my two-and-a-half year old that the corn flake crumb-crusted baked chicken my husband and I were eating was not the Crispy French Toast we had the morning before. The chicken breast half on my daughter's plate was cut up so it didn't look anything like the crunchy, golden pieces she saw on our plate. As far as she could see, her father and I were enjoying more of that yummy donut-like French toast…and she wanted some.
Using my best toddler psychology, I asked my husband to put the other uncut half of her chicken breast on her plate. He got ready to cut it up but I stopped him. "Let her see it in a big piece with the crust on it," I suggested. Sure enough, her big brown eyes lit up, she gripped the chicken breast and gleefully took bites. Then we cut it up for her and she willingly ate her "French toast". Phew!
As I mentioned earlier this week, I had to overcome a bit of a personal bias against cereal-crusted foods in order to try this Crispy Baked Chicken recipe. I'm so glad I did as this was some terrific chicken. The aromas of the seasonings I mixed in with the corn flake crumbs taunted us for the full hour while the chicken was baking. A drizzle of melted butter on top made the crumbs extra crispy and savory. I wouldn't have even know the crumbs were from corn flakes if it weren't for the hint of sweetness that came through. This chicken will definitely be added to our dinner rotation.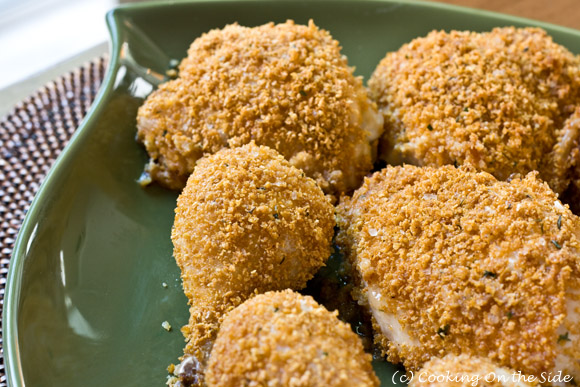 Crispy Baked Chicken
Adapted slightly from the Corn Crisped Chicken recipe on the back of the Kellogg's Corn Flake Crumbs box
Makes 8 servings
INGREDIENTS:
1 cup corn flake crumbs
1 1/2 teaspoon seasoned salt*
3 pounds broiler chicken pieces, rinsed and dried
1/2 cup evaporated milk
2 tablespoons butter, melted
DIRECTIONS:
Combine corn flake crumbs and seasoned salt. Dip chicken pieces in evaporated milk and coat with corn flake crumbs mixture. Place in a single layer, skin side up, in a  shallow baking pan coated with cooking spray. Drizzle with butter.
Bake at 350°F for 1 hour or until chicken is tender, no longer pink and juices run clear. Do not cover pan or turn chicken while baking.
* Since I didn't have seasoned salt on hand, I went with about 3/4 teaspoon kosher salt plus a few dashes of garlic powder, onion powder, dried thyme, dried parsley and ground black pepper.