Baked pasta – seriously??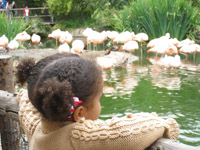 I know that for a lot of folks the weather this week has been an absolute scorcher. But here in San Diego, we've kind of been experiencing the opposite (but not at all severe) phenomenon…it's actually been a bit cold and blustery. In fact, I nearly turned the car around as I was taking my kids out to the Wild Animal Park – the fog was dense and drizzly on the way out there and my duo are still pretty little. Fortunately, the sky cleared up and we had a blast with the flamingos, meerkats and gorillas.
The brisk, gray weather put me in the mood for a good spinach lasagna, using the basil pesto I recently made. The recipe, from the back of a package of shredded cheese, uses no-boil noodles so it was actually easy to prepare on a weeknight. Although you can't really see it in the photos, the pesto is prominent throughout the lasagna layers and full of flavor. There's a fair amount of spinach in there as well so you can feel good about getting your veggies in. 🙂
I'm sending over some of this cool, misty weather to everyone who's still experiencing triple-digits. For when the temps climb back down, bookmark this zesty, cheesy recipe to try.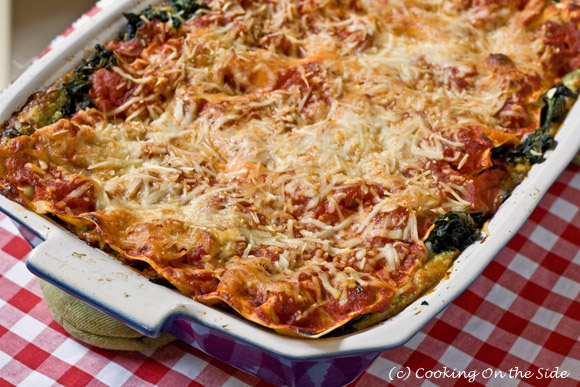 Spinach-Pesto Lasagna
From the back of Ralph's Shredded Mozzarella cheese
Serves 8
INGREDIENTS:
2 cups ricotta cheese
1 cup shredded Parmesan cheese
1 large egg
2 (10 oz.) packages frozen chopped spinach, thawed and squeezed dry
1 (8 oz.) package prepared pesto (or make your own)
3 cups chunky pasta sauce
12 no-boil lasagna noodles
2 cups shredded mozzarella cheese
DIRECTIONS:
Preheat the oven to 350°F. Spray a 13×9-inch baking dish or lasagna pan with cooking spray.
Spread 1/2 cup pasta sauce in the bottom of baking dish or pan. In a bowl, mix together ricotta cheese, egg and pesto until thoroughly blended. Layer noodles, ricotta and pesto mixture, spinach, 1/2 cup Parmesan, 1 cup mozzarella and 1 cup pasta sauce. Repeat layers using remaining ingredients. Bake for 1 hour.
Refrigerate any leftovers.