I brought dinner and a few of these Chocolate-Layered No-Bake Cheesecake Bars over to my friend Catherine, who just welcomed a new baby boy a few weeks ago. She e-mailed me a few hours later: "I sneaked a 'before dinner taste' of the cheesecake bars and it was the best thing I've ever eaten!"
Granted, Catherine is big chocolate fan (which is why I knew she'd love these bars), but I have to agree with her that they're pretty amazing. Without question, they're rich. But at least in bar form you feel a little less guilt since they're small. And now that the sun is finally back in San Diego, I'm finding the opportunity to make desserts without having to turn on the oven very appealing!
Now…a word about the Cool Whip. Yes, there's Cool Whip in here. You know I'm not usually one for the processed stuff BUT I went ahead and used it anyway since the recipe called for it. It seems to lighten the texture, making the cheesecake more mousse-like. There's probably a way to achieve the same effect with real whipped cream, but hey – I didn't sweat it. (Shhh…I kind of like Cool Whip. Don't tell!)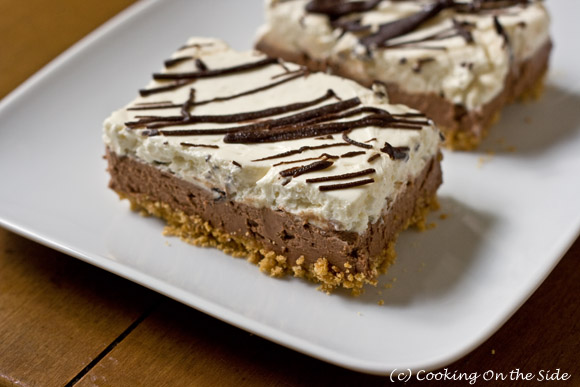 Chocolate-Layered No-Bake Cheesecake Bars
From inside the BAKER'S Semi-Sweet Chocolate box
Makes 16 servings (or 32, if you make them smaller like I did!)
INGREDIENTS:
Crust
1 1/2 cups graham cracker crumbs
1/4 cup (1/2 stick) butter, melted
2 tablespoons sugar
Filling
8 ounces semi-sweet chocolate, divided
4 packages (8 oz. each) cream cheese, softened
1/2 cup sugar
1 teaspoon vanilla
1 tub (8 oz.) whipped topping (aka, Cool Whip – no one's judging), thawed
DIRECTIONS:
Line a 13 x 9 inch pan with foil, with ends of foil extending over sides. Mix graham crumbs, butter and 2 tablespoons sugar; press onto bottom of pan. Refrigerate.
Melt 6 ounces of chocolate (6 squares, if you're using Baker's) as directed on package; cool slightly. Beat cream cheese, 1/2 cup sugar and vanilla in large bowl with mixer until well blended. Stir in whipped topping with whisk; pour half into medium bowl. Stir in melted chocolate. Pour over crust; cover with remaining plain batter. Melt remaining chocolate; drizzle over batter.
Refrigerate 3 hours or until firm. Use foil handles to remove cheesecake from pan before cutting to serve.