I need to know from the gardeners among you – is it too late in the season for me to try (again) to grow my own basil? Seriously, I'd love your advice. I've got a sunny yard and a continual desire for basil in the summer. The only thing I seem to be lacking is a green thumb. Time and again I've gone through the process of eagerly selecting herb seedlings at the garden center. I lovingly plant them at home in a pretty terra cotta planter (one of those with the windows scattered around the sides, like a little herb hotel on the Mediterranean). And then the aphids arrive. In fear of spraying anything toxic on the plants I abandon the whole thing and revert to the pricey produce department packs.
Even though I had to shell out the big bucks (not really, like five) for a big pack of organic basil at the grocery store it was all worth it to blend up my own fresh pesto. It's so versatile, adding intense herby, garlicky flavor to everything from panini to pasta. I couldn't resist the opportunity to parlay my homemade pesto into another "on the side" recipe I found – Spinach-Pesto Lasagna.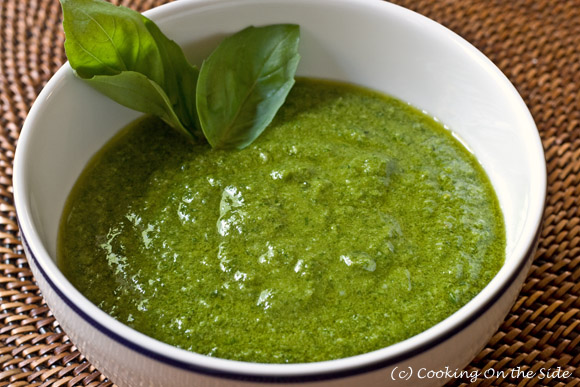 Basil Pesto
From inside a package of Private Selection Organic Basil Leaves
Makes approx. 1 to 1 1/4 lbs. of pasta
INGREDIENTS:
2 cups fresh basil leaves, washed and patted dry
2/3 cup romano or pecorino cheese, grated
1/3 cup pine nuts
2/3 cup extra-virgin olive oil
2 large cloves fresh garlic, to taste
DIRECTIONS:
Using a blender or food processor, add cheese and pine nuts. Blend for a few seconds. Drizzle in olive oil, blending until desired consistency is reached. Add garlic and basil, allowing each ingredient to blend smoothly with the preceding ones. Let stand for one hour. Refrigerate or freeze pesto.
For ready-to-use portions, freeze pesto in ice cube trays, then add to your favorite red sauce.
Refrigerate any leftovers.