Teriyaki burgers. Sweet onions. Spicy mayo. Hawaiian rolls. Pineapple.
Is your mouth watering yet?
This is my kind of burger: medium-rare, grass-fed (Food Inc. opened my eyes), eighty-five percent lean beef bathed in homemade teriyaki marinade.  The idea for the burger comes from the back of my favorite brand of hamburger buns, King's Hawaiian. A local restaurant we like to go to, Jake's, uses these buns and now they're all I use too (yes, I'd prefer they'd do away with the HFCS and preservatives but for now I'll give them a pass, they're so good). They're sweet and fluffy and provide the perfect backdrop for a highly flavorful burger.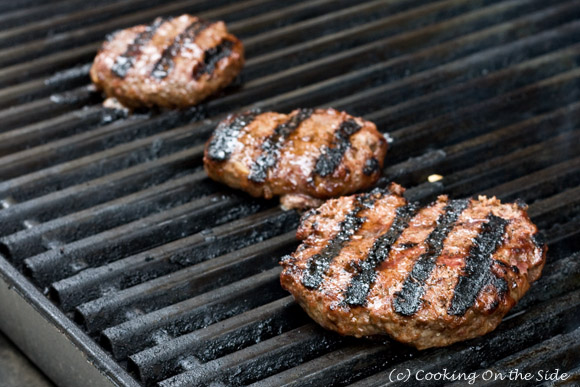 Gee, one of those burgers looks a little bigger than the others…
These King's Hawaiian buns are pretty big – like restaurant-size big. So in the interest of giving you a (hopefully) mouthwatering photo, I had to go with a restaurant-size (a.k.a., half-pounder) burger to fill out the bun. Rest assured, it was eaten.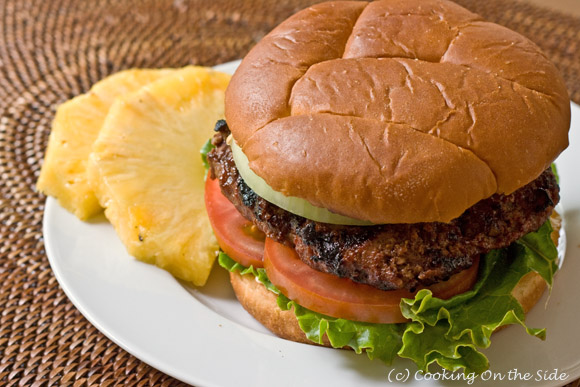 Teriyaki Burgers
Adapted from the Grilled Teriyaki Burger recipe on the back of the King's Hawaiian Sandwich Roll package
Serves 4
INGREDIENTS:
1 lb. ground beef (I prefer 85/15 or 80/20 for juicy burgers)
1/2 cup teriyaki sauce (store-bought or make your own, like I did – see recipe on AllRecipes)
4 hamburger buns (the King's Hawaiian ones are my favorites)
Spicy Mayo (see recipe below)
2 small tomatoes, sliced
1 sweet onion, sliced
4 leaves lettuce
DIRECTIONS:
Divide ground beef into 4 equal sections. Mix in about 2 tablespoons of teriyaki sauce into each section and form patties. Grill hamburgers to your desired doneness.
Toast hamburger buns on the grill.
To assemble each burger: Spread Spicy Mayo on each side of the bun. Place a burger on the bottom half and top with tomato slices, onions and lettuce.
Spicy Mayo
Mix together 1 teaspoon cayenne pepper, 1/2 cup mayonnaise and 1/2 teaspoon minced garlic.