They look like hamburgers, don't they?
Or maybe it's just me and my current obsession with sliders. I don't know why I've been finding mini-sandwiches so appealing, but if they're on the menu I order them. I've justified it as a means of portion control – I eat two and share the third. But in reality? I just think they're cute…and who can resist cute food?
This started out as a cookie post, featuring the Peanut Butter Oatmeal Cookie recipe I found on the back of a baking powder canister. But as I was nibbling away – rest assured I do plenty of taste testing before posting recipes on this blog – I couldn't help wanting some ice cream to go with them. I was all set to pick up a pint of Haagen-Dazs when my strategic-minded husband suggested I make some from scratch. Next thing I knew I had a batch of David Lebovitz' ultra-rich, super-smooth, intensely-chocolate gelato (from his Ready for Dessert cookbook) churning away in my ice cream maker. It's good to listen to your spouse sometimes.
As you can see by the glistening gelato in the photos, this is a dessert you'll want to consume promptly. I'm sure it won't be a problem. I should note that these cookies are actually more like oatmeal cookies with peanut butter, rather than the other way around. So not only do you get that nice nutty oatmeal flavor but the texture is also a bit cakier than your typical peanut butter cookie. They're great on their own, but with a scoop of chocolate gelato they make perfect little dessert sliders.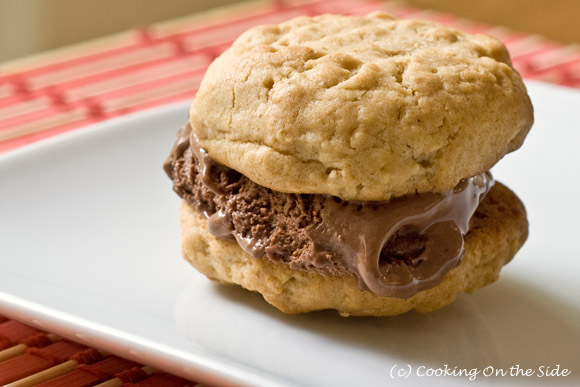 Peanut Butter Oatmeal Cookie & Gelato Sliders
Adapted from the Peanut Butter Oatmeal Cookies recipe on the back of the Rumford Baking Powder can
Makes 3 dozen cookies (18 sandwiches)
INGREDIENTS:
1 stick (1/2 cup) butter
1/2 cup peanut butter
1/2 cup light brown sugar
1/2 cup granulated sugar
1 egg, beaten
1/4 cup milk
1 cup rolled oats
1 3/4 cups sifted flour
2 1/2 teaspoons baking powder
1/4 teaspoon salt
1 pint chocolate gelato or ice cream
DIRECTIONS:
Preheat the oven to 375°F.
Cream butter and peanut butter together. Mix brown and white sugar; add to butter gradually, creaming until light and fluffy. Combine egg and milk, add to creamed mixture. Fold in rolled oats. Sift flour, baking powder and salt together and mix well with other ingredients. Drop by tablespoonfuls onto greased baking sheet. Bake for 12-15 minutes.
For each sandwich: Once the cookies are completely cool, place a small scoop of gelato between two cookies and press gently to create a mini-sandwich. Keep the sandwiches on a plate or tray in the freezer until you're ready to serve them.