Bookmark this recipe for your next brunch potluck – this recipe for Petit Pain au Chocolat couldn't be easier and the results will score you huge points among your chocolate loving friends (at least it did with me). For this simplified version, you just wrap puff pastry around some good chocolate, brush on some egg wash to give it a nice golden color and bake.
It's a culinary goal of mine to learn to make my own puff pastry, but until then I'm very glad there are such good-quality pre-made puff pastry options out there. After using Pepperidge Farm's puff pastry for years with great results, I was intrigued to try out a new all-butter variety from La Boulange. They're a San Francisco-based bakery that's recently launched their product at Whole Foods. Bakers all have their opinion about going all-butter, all-shortening or a combination of both when it comes to pastry. For me the jury is still out, but I definitely enjoyed working with this puff pastry…and I loved these easy chocolate-filled croissants.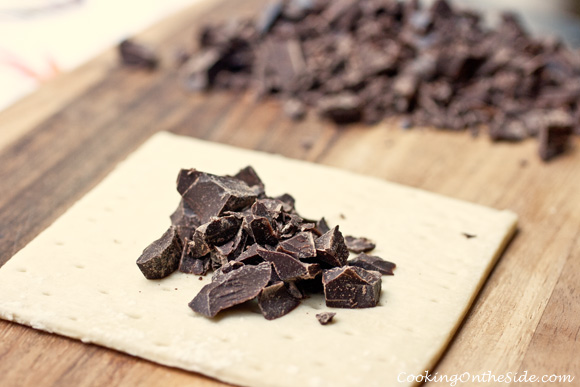 One notable difference I encountered with working with the all-butter puff pastry: it melts a lot more easily. The package advised thawing the pastry for 15 to 30 minutes. I was prepping breakfast for my kids, checking email, chopping chocolate and such for about 45 minutes before getting around to my thawed pastry. By that time, things had gotten a bit sticky on the bottom. I made a mental note to not let it sit out for quite so long next time.
I was really happy with how the pastries came out when I retrieved them from the oven. Everything came out puffed and golden as they should. Texture-wise they were very flaky and tender…so much so that I couldn't get a good photo of the melty chocolate inside without crushing the pastry into a flaky pile. No, it's best just to bite into these little guys, something I hope you have a chance to do very soon!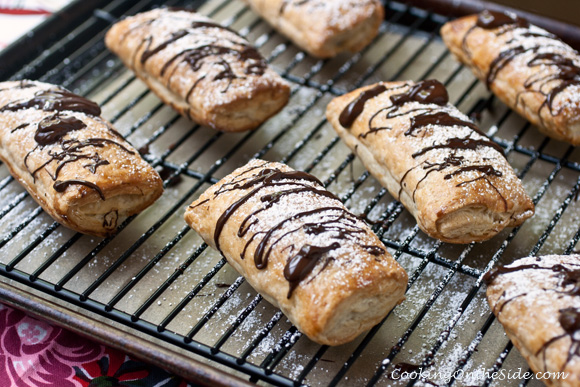 Petit Pain au Chocolat
From inside the La Boulange Puff Pastry package
Prep time: 10 minutes | Cook time: 40 minutes | Total time: 50 minutes
Yield: 8 pastries
INGREDIENTS:
1 (16 oz) package

puff pastry, thawed (2 sheets)

5 ounces

chopped semi-sweet chocolate or chocolate chips, divided

1

egg

2 tablespoons

powdered sugar
DIRECTIONS:
Heat the oven to 350°F. Line two baking sheets with parchment.
Cut each sheet of pastry into 4 (5-inch) squares, making 8 in all. Place 2 tablespoons of chocolate in the center of each square (reserve about 1/4 cup of chocolate to drizzle at the end).
Fold each puff pastry over the chocolate and press to seal.
In a small bowl, whisk the egg together with a splash of water. Brush the pastries with the egg wash.
Bake the pastries until they are golden brown, 35 to 40 minutes. Let them cool a bit, then sift powdered sugar over the top.
In a small, microwave-safe bowl heat the remaining chocolate at 50% power in the microwave for 1 minute, stir, and continue to heat it in 30-second increments until it's melted. Drizzle the chocolate over the pastries.
Thanks to La Boulange Bakery for providing me with samples to try out their puff pastry. I did not receive any financial compensation and my opinions about the product are, as always, my own.