I first discovered that we had a fruit-bearing tree in our yard the day I pulled up to my driveway to find a woman positioned on my front lawn, bracing a ladder. A man teetered on the top rung in an effort to reach small, red, not-quite-ripe-looking plums from the upper branches. "Can I help you with something?" was the best I could come up with at the time, I was so dumbfounded by the situation. The woman just smiled and commented, "There are lots up near the top!" I parked my car and just let them continue – I sure as heck wasn't going to climb the tree to retrieve anything myself. Eventually the man came down from the ladder (as I was mentally reviewing our insurance policy), offered me some of the plums (so kind of him, right?) and they went off on their merry way.
I remembered this odd encounter last week on a much-needed day spa trip as I noticed a maintenance worker reach up and snip a ripe orange from a tree. We've been eating citrus like mad in our house for the past month, but the idea of plucking one straight from the tree just seemed so…lovely.
I'm nowhere near as brazen as the folks on my front lawn so I refrained from picking the oranges at the spa, but I did buy a big bag of clementines the next time I did my grocery shopping. I parlayed several of them into this incredible Orange Mango Nut Bread, the recipe for which I found inside a Challenge butter package. Like all the butter company recipes I've previously shared on this blog, there's definitely some butter involved. It's super-moist and citrusy and the little chunks of dried mango and pecans give it a really nice texture. You really don't need the Ginger Honey Butter, but if you decide to spread some on you'll appreciate the sweet-spiciness the ginger brings to the mix.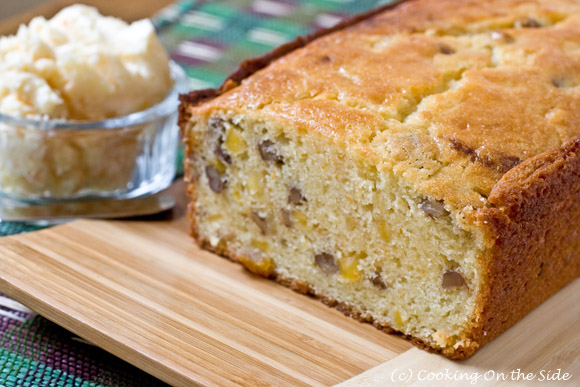 Orange Mango Nut Bread with Ginger Honey Butter
From the Orange Mango Nut Bread with Ginger Honey Butter recipe inside the Challenge Unsalted Butter package
Prep time: 15 minutes | Cook time: 45 minutes | Total time: 60 minutes (plus cooling time)
Yield: 1 large loaf
INGREDIENTS:
Bread:
1/2 cup (1 stick)

unsalted butter, softened

3/4 cup

granulated sugar

2 teaspoons

fresh orange zest

2

eggs

2 cups

all-purpose flour

3/4 teaspoon

baking powder

1/2 teaspoon

baking soda

1/2 teaspoon

salt

6 ounces (3/4 cup)

plain yogurt

1/3 cup

fresh juice

1/2 cup

chopped pecans

1/2 cup

chopped sweetened dried mangoes
Ginger Honey Butter:
1/2 cup (1 stick)

unsalted butter, softened

1 teaspoon

orange zest

1/4 teaspoon

salt (optional)

3 tablespoons

honey

1 tablespoon

finely chopped fresh ginger root
DIRECTIONS:
For the bread:
Preheat the oven to 350°F. Butter a 9×5-inch loaf pan (or line the pan with parchment).
Cream the butter, sugar and orange zest until it's light and fluffy. Beat in the eggs. Combine the flour, baking powder, baking soda and salt. Add the dry ingredients to the butter mixture alternating with yogurt and orange juice; mix until it's well blended. Stir in the nuts and mango pieces.
Pour the batter into the prepared pan. Bake 40 to 45 minutes or until a toothpick inserted in the center comes out clean. Let stand 10 minutes; remove from pan. Cool completely. Slice and serve with Ginger Honey Butter.
For the Ginger Honey Butter:
Cream the butter with the orange zest and salt until it's light and fluffy. Blend in the honey and ginger root. Refrigerate.