I just booked a few upcoming date nights for my husband and me – I'm so looking forward getting out together. We aim for at least one a month these days. It's usually something simple like dinner somewhere local and maybe a movie, but it's so nice to have the time to ourselves while the kids are home having fun with our sitter whom they adore.
I can count the number of date nights my husband and I had during our first two years as parents on one hand. We were still a little unsure about hiring a babysitter so we'd wait until our parents came to visit so they could watch our daughter while we went out. A friend of mine, who had a standing date night with her husband every week, relentlessly encouraged me to get a sitter already. I finally followed her advice, once our son was born, and she was so right. Even getting out together just once a month has restored a bit of balance to our lives.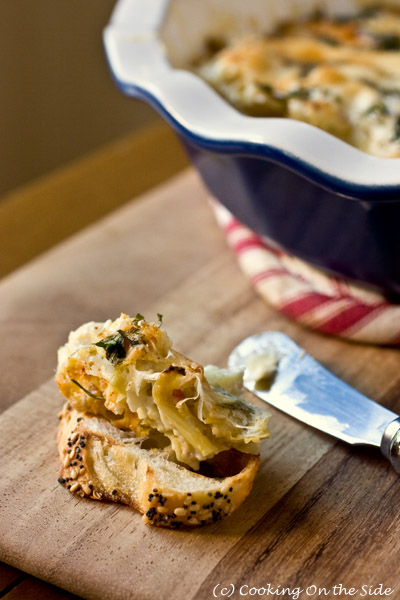 When Mike and I go out to dinner we usually will pass on an appetizer except if artichoke dip is on the menu. If they've got artichoke dip, we order it. And we will probably finish it. For me, it's the cheesy, baked crust on top that I can't pass up. I make sure I get a good amount of that on my bread along with, of course, a lot of artichoke. This Hot Artichoke Dip recipe I found on a package of Alexia Waffle Fries is as tasty as any I've had in a restaurant. It's makes a whole lot more than you need for just two people so invite some friends over and share!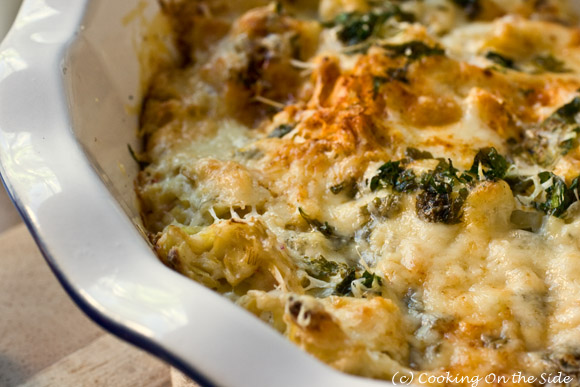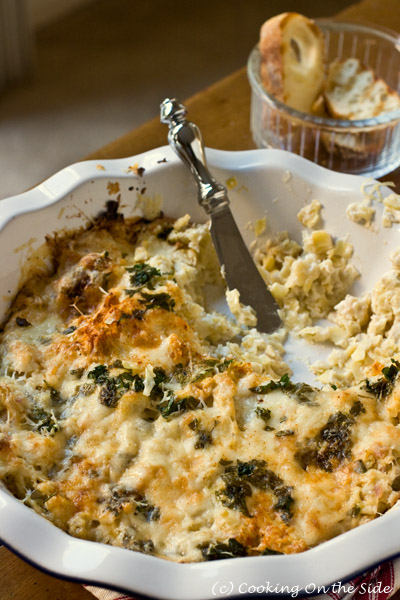 Hot Artichoke Dip
From the back of the Alexia Waffle Fries package
Prep time: 10 minutes | Cook time: 30 minutes | Total time: 40 minutes
Yield: 4 servings
INGREDIENTS:
2 (12 or 13 ounce) cans

artichoke hearts, drained

3/4 cup

mayonnaise

1/4 cup

sour cream

1/2 cup

grated Parmesan cheese

1/4 cup

grated Asiago cheese

1 teaspoon

minced garlic

1/2 teaspoon

sea salt

Juice of 1/2 lemon

Dash

Worcestershire Sauce

Cayenne pepper to taste

Grated cheese, paprika and chopped parsley to garnish
DIRECTIONS:
Preheat the oven to 350°F.
Squeeze the artichoke hearts of any excess liquid and pat dry with a paper towel.
Finely chop the artichokes either by hand or with a food procesor and blend with the remaining ingredients except for the garnish.
Transfer the artichoke dip into a shallow flame proof dish and bake for approximately 10 minutes. Sprinkle the garnish evenly and bake for an additional 5 minutes (it took me closer to an additional 20 minutes) until lightly brown and hot through and through.