Well, this isn't quite the cornbread we're used to seeing, is it? White Yogurt Cornbread isn't quite as exotic as it sounds, but it does have one notable quality that might entice you to give it a try – substantially reduced fat with (mostly) the same cornbread taste.
The "secret" is right in the name: yogurt. Specifically, Greek yogurt, which fans of this blog know I've become enamored with lately. I used it to replace the 1/3 cup of oil in the original recipe from the back of the Albers cornmeal package. Did you know 1/3 cup of vegetable oil contains 75 grams of fat? Guess how much fat is in the amount of Greek yogurt recommended to replace it? Just 1 1/2 grams.
Of course, the obvious question is, "But does it still taste good?" The answer is yes! It's still very moist, still lots of corn flavor. Is it exactly like the original? Well, no – I'd say it's a touch denser than if you bake it with oil. But just a touch. You're removing 73.5 grams of fat from this recipe which, divided by 12 servings, comes out to a reduction of more than 6 grams of fat per serving. That tradeoff seems worth it, to me.
By the way, this cornbread is white due to the white corn meal I used – you could certainly make a more traditional golden version with yellow corn meal.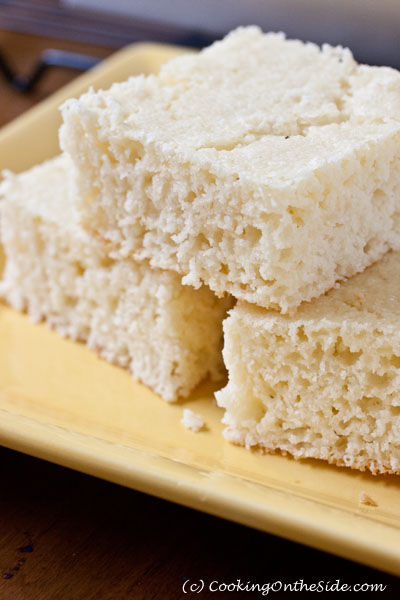 White Yogurt Cornbread
Adapted from the Corn Bread recipe on the back of the Albers Yellow Corn Meal package
Prep time: 10 minutes | Cook time: 25 minutes | Total time: 35 minutes
Yield: 12 servings
INGREDIENTS:
1 cup

white corn meal

1 cup

all-purpose flour

1/4 cup

granulated sugar

1 tablespoon

baking powder

1 teaspoon

salt

1 cup

milk

1/4 cup

reduced-fat Greek yogurt

1

large egg, lightly beaten
DIRECTIONS:
Preheat oven to 400°F. Grease 8-inch square baking pan.
Combine corn meal, flour, sugar, baking powder and salt in medium bowl. Combine milk, yogurt and egg in small bowl; mix well. Add milk mixture to flour mixture; stir just until blended. Pour into prepared pan.
Bake for 20 to 25 minutes or until wooden pick inserted in center comes out clean. Serve warm.
NOTE: Recipe may be doubled. Use greased 13 x 9-inch baking pan; bake as above.