The Means: I own a pie plate and my fridge is perpetually stocked with Greek yogurt.
The Motive: I've been wanting to post a Key Lime Pie recipe on this blog forever and finally found a terrific on-the-side recipe from Chobani.
The Opportunity: It's Pie Day!
I am guilty of pie!
Honestly, it doesn't take a lot to convince me to make pie. But in this particular case the stars did align in such a way that making this particular Key Lime Greek Yogurt Pie at this point in time just seemed like the perfect thing to do.
If you love the mouthwatering tartness of a traditional Key Lime Pie like I do, you'll find the addition of yogurt here to be especially refreshing. Yogurt is mixed into the key lime custard itself and it's also used for the topping, sweetened with a little confectioner's sugar (a healthier alternative to whipped cream!). One important thing to keep in mind when using yogurt as a topping, however, is that it does tend to separate after a while. So if you're planning to serve just a few slices at a time, it's best to dollop your slices individually rather than the pie as a whole. Take three guesses as to how I know this!
So, as I mentioned, today is Pie Day (not to be confused with the Pi(e) Day on 3.14 we previously celebrated with another terrific Greek yogurt pie). Nearly 200 food bloggers will be posting pies today for no other reason than we like pie. It's as good a reason as any, right?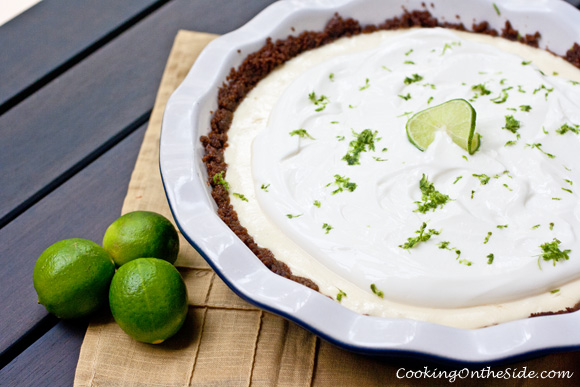 Key Lime Greek Yogurt Pie
From the Key Lime Pie recipe on a Chobani Greek Yogurt recipe card. Recipe by Chobani fan Lauri Watson.
Prep time: 8 minutes | Cook time: 40 minutes | Total time: 48 minutes (plus cooling and chilling)
Yield: 8 servings
INGREDIENTS:
1 cup

(about 15 cookies) finely crushed gingersnaps

3 tablespoons

butter, melted

1 (14-ounce) can

sweetened condensed milk

2 cups

plain nonfat Greek yogurt

2

large eggs

1 cup

key lime juice

2 tablespoons

confectioner's sugar

Zest of 1 lime
DIRECTIONS:
Preheat oven to 375°F. Mix gingersnaps and butter in small bowl. Press mixture into the bottom and up the sides of a 9-inch pie pan. Bake 10 to 12 minutes. Refrigerate for at least an hour before filling
Preheat oven to 325°F. Whisk together condensed milk, 1 cup yogurt, lime juice and eggs. Pour into pie shell and bake 25 minutes (or until the custard is set with the center still slightly jiggly). Chill pie for 2 hours before serving.
When ready to serve, whisk together remaining cup of yogurt and confectioner's sugar. Spread on top of pie with a spatula. Garnish with lime zest, slice and serve.
NOTE: If you're not planning to serve the entire pie at once, it's best to top each slice individually with the sweetened yogurt rather than the entire pie, as the yogurt topping tends to separate over time.
Chobani was kind enough to include me in a dinner event they held for food bloggers in Seattle recently.