One night about three years ago my husband and I were out to dinner with some good friends of ours, Tony and Karin. It randomly came up in conversation, over pasta and chianti, that Tony really loved foods containing pumpkin. I had never heard of such a thing. Of course I loved pumpkin pie at Thanksgiving, but beyond that pumpkin was not a significant part of my culinary repertoire.
Boy, was I missing out.
Pumpkin, for me, isn't just for pie anymore. The bright orange purée seems to make all kinds of baked goods extra moist and tender (like, say, this Pumpkin Spice Cake I made last year). I especially love the cinnamon, clove and nutmeg flavors that we often pair with it. Those flavors also happen to taste really great with chocolate which is why I loved these Pumpkin Chocolate Chunk Muffins.
This is another recipe passed along to me by our fabulous babysitter, Stephanie (you might remember the Cookies and Cream Cheesecake recipe she previously gave me – yum!). It's been about twenty years since she clipped it, but she's pretty sure that it originated on a can of pumpkin purée. Regardless, I wanted to be sure to share it with you as we ring in pumpkin season!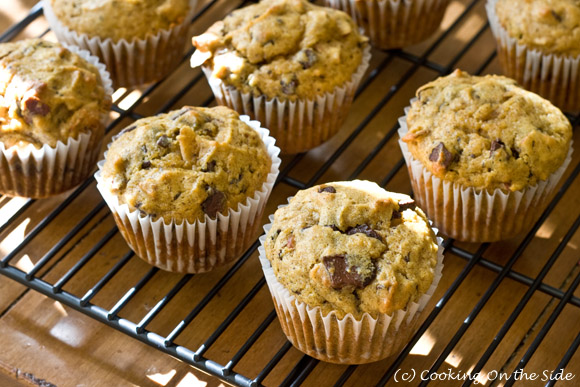 Pumpkin Chocolate Chunk Muffins
Adapted slightly from the Pumpkin Chocolate Chip Muffins recipe my babysitter is sure she found on a can of pumpkin some twenty years ago
Makes 12 regular or 48 miniature muffins
INGREDIENTS:
1/2 cup (1 1/4 ounces) sliced unblanched almonds
1 2/3 cups all-purpose flour
1 cup granulated sugar
1 tablespoon pumpkin pie spice
1 teaspoon baking soda
1/4 teaspoon baking powder
1/4 teaspoon salt
2 large eggs
1 cup plain pumpkin (half of a 1-pound can)*
1/2 cup (1 stick) unsalted butter, melted
6 ounces semi-sweet chocolate, chopped
DIRECTIONS:
Heat oven to 350°F. Put almonds on a baking sheet or pie pan and bake about 5 minutes, just until lightly browned; watch carefully so almonds don't burn. (You can also toast them in a toaster oven.) Slide almonds off the baking sheet so they cool quickly.
Grease muffin cups, or use foil or paper baking cups.
Thoroughly mix flour, sugar, pie spice, baking soda, baking powder and salt in a large bowl.
Break eggs into another bowl. Add pumpkin and butter, and whisk until well blended. Stir in chocolate chunks and almonds. Pour over dry ingredients and fold in with a rubber spatula just until dry ingredients are moistened.
Scoop batter evenly into muffin cups. Bake 20 to 25 minutes, or until puffed and springy to the touch in the center. Turn out onto a rack to cool. Wrap in a plastic bag and keep for 1 to 2 days. Reheat before serving.
* If you make your own pumpkin purée, like I did, the moisture content may be different from the canned variety. As a result, you may want to add in a few tablespoons of milk if the batter appears to be too dry. Remember not to over-stir!