You'd have thought it was 1950 rather than 2010. It was a beautiful weekend morning. My husband and baby son were positioned on the couch watching football, my toddler daughter was outside in the backyard pretending with dolls in her playhouse and I was in the kitchen baking a French Apple Pie. As much as we try to be all hip and modern, sometimes traditional roles sneak up on us.
To be honest, I love mornings like that.
The next time you feel your inner June Cleaver demanding to emerge, you'll find that pulling together this incredibly easy apple pie with its irresistible crumbly streusel topping will satisfy the urge. I went with all Granny Smith apples this time around and it was perfectly tart and sweet. It tastes like autumn.
I definitely don't mind a little tradition every once in a while.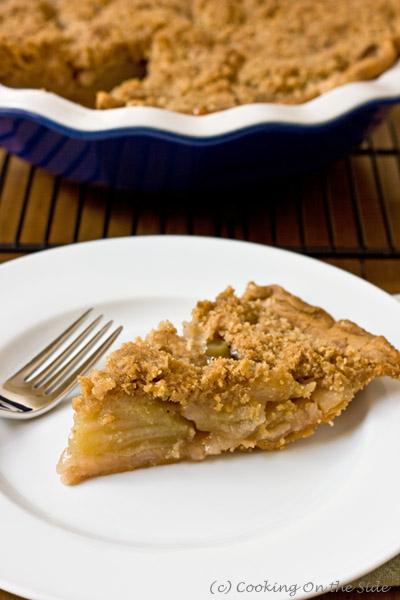 French Apple Pie
From inside the Safeway Ready-To-Bake Pie Crust package
Makes one 9-inch pie
INGREDIENTS:
1 pie crust
1/2 cup granulated sugar
1/4 cup cornstarch
1/2 teaspoon ground nutmeg
1/4 teaspoon ground cinnamon
Pinch of salt
6 cups cored, peeled and thinly sliced tart baking apples (approximately 4-5 medium-sized apples)
1 cup flour
1/2 cup brown sugar, firmly packed
1/2 cup butter or margarine
DIRECTIONS:
NOTE: Prepare pie crust according to directions on package for 1 filled crust pie.
Preheat oven to 350°F. Mix sugar, cornstarch, nutmeg, cinnamon and salt into bowl. Stir in sliced apples. Spoon apple slices into pie plate.
To prepare crumb topping: mix together flour and brown sugar. Blend in butter or margarine until crumbly. Sprinkle crumb topping over pie. Bake pie on sheet pan for 1 hour 30 minutes.