Whenever I used to travel to Texas on business my hosts would never take me to a Mexican restaurant, assuming that since I'm from San Diego I probably have it often enough at home. But the Mexican food we have in California isn't quite the same as in Texas. True Tex-Mex is a variety all its own…and one I'd love to get to know better.
This Tex-Mex-style queso was the dip I was actually most looking forward to making of the three I've shared for Dip Week (see also the 7-Layer Dip and Tomatillo-Lime Salsa). The word queso literally means "cheese" in Spanish, but it also describes an amazing fondue-like dip with chile peppers, green onions and tomatoes swimming in a melted blend of Monterey Jack and cheddar cheeses. That's my kind of dip.
The one thing to keep in mind with queso is that it needs to be kept hot, as I determined shortly after taking these photos. As anyone who enjoys cold pizza knows, melted cheese reverts to its solid state rather quickly. I've seen other queso recipes that call for milk (such as Amanda's Righteous Queso) or sour cream (like Emeril's Queso Dip) and my guess is that this additional liquid helps the dip maintain its creaminess. The recipe below from Mission Tortilla Strips is all about the cheese, so be sure to keep it hot in a fondue pot or in a flameproof bowl over candles or sterno burners.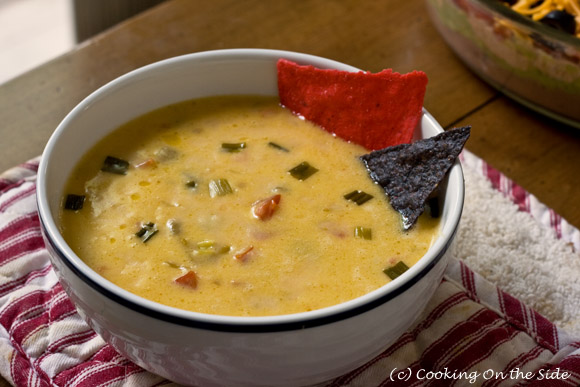 Queso
From the Picante Queso Dip recipe on the back of the Mission Tortilla Strips package
INGREDIENTS:
4 green onions, chopped
1 tablespoon butter
1 can (4 oz.) green chiles, diced and drained
2 medium tomatoes, chopped
Bottled hot pepper sauce, to taste
1 1/2 cups shredded Monterey Jack cheese*
1 1/2 cups shredded cheddar cheese*
Tortilla chips
DIRECTIONS:
Sauté onions in butter. Stir in chiles and tomato. Add hot pepper sauce. Simmer uncovered. Stir in cheeses until melted. Serve warm with tortilla chips.
* I'd recommend shredding your own cheese, as prepackaged shredded cheese often has an anticaking agent that isn't ideal for melting.