I hit the mother lode…on the back of a bag of tortilla chips.
A whole menu of fabulous Mexican and southwestern party dips is printed on the Mission Tortilla Strips bag! With lots of celebrations and family gatherings coming up this time of year I'm declaring this week Dip Week on Cooking On the Side and making a few of the recipes to share on the blog. First up: a personal favorite of mine, 7-Layer Dip.
I can't tell you how many times I brought a 7-layer dip to school potlucks or scout meetings when I was growing up. The seven layers, in case you're not familiar with this great dip, are: refried beans, guacamole, sour cream, tomatoes, onions, black olives and cheddar cheese (there's sometimes a little variation, but generally you see most of these ingredients). Half the fun is digging deep through the layers with your tortilla chip, all the way down to the beans, to create the perfect bite with a little of everything on it. I don't remember whether I was the one who always requested it (I imagine I was) or if it was just my mom's standby dish, but I do remember watching my mom assemble all of those yummy layers quite often. It was always a crowd pleaser.
Flash forward a few decades to last week – I found myself with the decision of what to make for my daughter's year-end preschool potluck. It was my first time bringing food to school as a parent and I didn't really deliberate about it for too long. In our family, we bring 7-layer dip!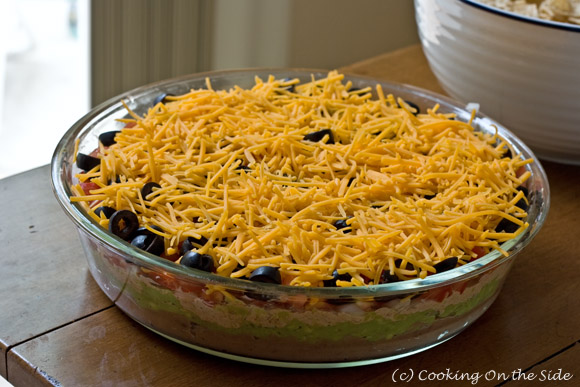 7-Layer Dip
From the Southwest Taco Dip recipe on the back of the Mission Tortilla Strips package
INGREDIENTS:
1 can (16 oz.) refried beans
3 medium avocados
2 tablespoons lemon juice
1/4 teaspoon black pepper
1 1/4 cups sour cream
1 package taco seasoning mix
1 small onion, chopped
3 tomatoes, chopped
1/2 cup sliced olives
16 oz. grated cheddar cheese
Tortilla chips
DIRECTIONS:
Spread refried beans on a large plate (I found a 9″ pie plate works great). Mash avocados in a separate bowl. Add lemon juice and pepper. Mix well and then spread over refried beans.
Combine sour cream and taco seasoning mix. Spread over refried bean mixture. Top with tomatoes, onions, olives and cheese. Serve with tortilla chips.