[UPDATED: Now includes links to Android versions!] You can tell a lot about a person by the apps they have on their iPhone, it seems.
In a moment of geekiness the other day, my friends Melissa, Tany and I sat around a table and compared the apps we've installed on our respective iPhones. They weren't at all surprised to see a multitude of cooking apps on mine. It's so convenient to be able to readily access recipes, tips and shopping lists whether I'm in the kitchen or at the grocery store. And now that I'm the giddy new owner of an Apple iPad, I've begun to explore the feature-rich apps for that device as well.
If you've got an iPhone or an iPad and you're, like me, looking for apps that can help you out in the kitchen, read on for my little guide to the 11 cooking apps I've liked the most. [NOW AVAILABLE: The Best iPhone, iPad & Android Apps for Cooks – Part 2!]
NOTE: I'm defining "apps" as those that are listed within the iTunes App Store. There are many fantastic mobile-formatted cooking websites out there, but I'm just focusing on true apps for this post. I'm linking to the Android Market for the convenience of Android users, but please note that I have only tried the iPhone and iPad versions. One more thing: the prices listed for the paid versions are current as of this writing, but please be aware that they tend to change frequently.
* * *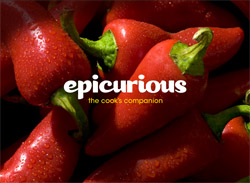 Epicurious
"This app from award-winning food site Epicurious.com includes over 28,000 delicious, professionally tested recipes from renowned magazines such as Bon Appétit and Gourmet, popular cookbooks, top chefs, and leading restaurants."
Great For: Cooks of all skill levels and interests; fans of the Epicurious.com website
Special Features: This cooking app is definitely one of the best, with all of the features I value most: easy navigation, lots of recipe ratings and reviews, great photos, shopping list, kitchen-friendly format (i.e., easy to read while juggling multiple tasks).
It's Great Because: It's an immense-yet-portable library of recipes that are not only professionally tested but also reviewed and rated by many users. This takes a lot of the guesswork out of determining whether the recipe is good or not. It also features excellent navigation, with an extensive variety of options to browse and sort recipes. Best of all, it's FREE! Other apps with far fewer recipes charge quite a bit.
What Would Be Even Better: The shopping list does a great job of allowing you to combine ingredients for multiple meals, but I wish it were possible to edit the list (e.g., add other grocery items you might need to pick up or adjust the quantity of individual items, based on what you might already have on hand). I find it's easier to use a separate grocery app (see GroceryIQ below).
Price: FREE
Devices: iPhone, iPad, Android
Download Epicurious from iTunes
Download Epicurious from the Android Market
* * *
Jamie Oliver 20 Minute Meals
"Explore 55 mouth-watering recipes with stunning full-screen photography before diving into the unique step-through mode that takes you effortlessly through each recipe."
Great for: Busy people looking to get a home-cooked weeknight meal on the table without a lot of fuss (or processed ingredients)
Special Features: Jamie Oliver's instructional videos and interspersed voice-overs (his helpful quips pop up unexpectedly as you step through the recipes) are what distinguish this app from most of the pack. Recipes are presented in a step-by-step format, with photos depicting each step. Each recipe can be prepared for either 2 or 4 people (there's a button to toggle between the options).
It's Great Because: Even though there are relatively few recipes, those that are included are pretty appealing. So far I've tried the Tofu Stir-Fry, Chicken Tikka Masala and Sausage & Zucchini Carbonara. Did they take 20 minutes? No way. But they did take less than an hour and that's good enough for me on a weeknight. More importantly, we thought they tasted really good.
What Would Be Even Better: The step-by-step instructions are great, but I wish there was a way to read through the recipe all on a single screen and maybe even e-mail myself a copy of it from the application (many other apps have this feature). If you want to read through the recipes on this app you find yourself tapping through 10+ screens. Also, at $7.99 it's a bit pricier than most apps – especially for so few recipes.
Price: $7.99
Device: iPhone, Android
Download Jamie Oliver 20 Minute Meals from iTunes
Download Jamie Oliver 20 Minute Meals from the Android Market
* * *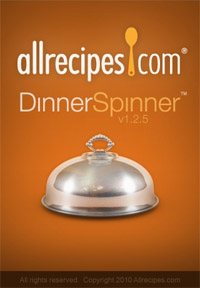 AllRecipes.com Dinner Spinner
"Allrecipes.com Dinner Spinner is a fun and useful recipe app from the world's #1 food site, delivering thousands of our members' favorite quick and easy recipes to your iPhone/iPod Touch."

Great For: Cooks of all skill levels and interests; fans of the AllRecipes.com website
Special Features: The "Dinner Spinner" feature allows you to spin virtual dials to choose your dish type, ingredients and cooking time and see recipes that meet your criteria. Or you can just give the phone a shake and the spinner will whirl around and select recipe ideas for you at random (not sure how practical that is, but it's fun anyway). A premium Dinner Spinner Pro version is also available, with full access to all the recipes from the website, no ads and a bunch of other helpful features to customize your experience to your needs.
Why I Like It: I've been an avid user of AllRecipes.com for many years, so it's great to have this mobile version on my iPhone. What I like most about both the website and the app is that so many of the recipes have ratings and reviews from hundreds or thousands of people. I can feel pretty confident that a recipe rated 5-stars by several hundred people is a winner!
What Would Be Even Better: The only real drawback I've found with this app is that you can't access the entire AllRecipes library, but now they offer the Pro version upgrade with this feature.
Price: FREE for the regular app; Pro version is $2.99
Device: iPhone, iPad, Android
Download AllRecipes.com Dinner Spinner from iTunes
Download AllRecipes.com Dinner Spinner Pro from iTunes
Download AllRecipes.com Dinner Spinner from the Android Market
Download AllRecipes.com Dinner Spinner Pro from the Android Market
* * *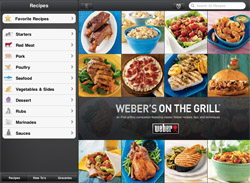 Weber's On the Grill
"If you love to grill or barbecue, you are going to love this app! Weber's On the Grill™ features 250 classic Weber recipes plus 40 recipes for rubs, marinades, and sauces that are sure to get you fired up to get out and grill."
Great For: People like myself who like to grill and would appreciate a few pointers
Special Features: Great grilling is all about technique, so this app is loaded with instructional features like videos and expert tips. One unique feature is the grill timer – it's embedded right within the recipes so you can easily set it and make sure your food cooks for the right amount of time.
Why I Like It: I tend not to watch online videos, but I have to say the instructional videos within this app are my favorite feature. I'm an experienced cook, but a bit of a novice barbecue-er, so I have all kinds of questions about technique. The videos are easy to follow and have answered many of my grilling questions. Plus, they're by barbecue expert Jamie Purviance, a fellow Stanford alum (Go Cardinal!).
What Would Be Even Better: I suspect they may have omitted tips for cleaning and care of your grill because this might vary across manufacturers, but it would be nice to see at least some general advice in this area.
Price: $4.99
Device: iPhone, iPad
Click Here to Download Weber's On the Grill from iTunes
* * *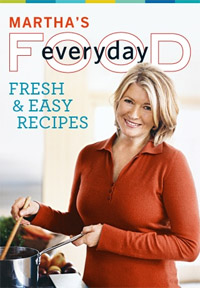 Martha's Everyday Food
"Get thousands of Everyday Food magazine's quick, easy, family-friendly recipes, as well as powerful shopping tools, right on your iPhone."
Great For: Cooks looking for "quick, easy, family-friendly recipes", especially for dinner
Special Features: A daily dinner recipe is delivered to your phone (via push notification, if you enable it), to help you answer the inevitable question of "What's for dinner?". This is one of the few apps to feature a grocery store finder, which can be especially helpful if you're traveling.
Why I Like It: Everyday Food is one of my favorite cooking magazines – their recipes tend to be pretty simple and straightforward, without processed ingredients and almost always delicious.
What Would Be Even Better: I actually turned off the daily recipe push notifications. I keep my phone on my nightstand and it would buzz every night at midnight with the new recipe. I love to cook, but I don't let it interrupt my sleep. 🙂
Price: $0.99
Device: iPhone, iPad
Click Here to Download Martha's Everyday Food from iTunes
* * *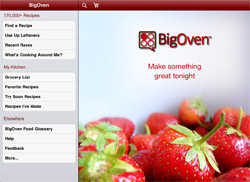 BigOven Pro
"Get access to a vast cooking library right from your kitchen countertop! Search over 170,000 recipes by title, ingredient, course, or more. Designed from the ground-up for the Apple iPad, this BigOven app is an ideal kitchen companion."
Great For: Cooks of all skill levels and interests; fans of the BigOven.com website
Special Features: Synchronize your grocery list, favorite recipes and other preferences across devices (i.e., your iPhone, iPad and/or the BigOven.com website); post your own recipes on BigOven.com and access them on your iPad
Why I Like It: The "Use Up Leftovers" feature was what drew me into this app. You enter up to 3 ingredients you have on hand and BigOven Pro suggests recipes using them. Other apps, like Whole Foods (see further down the list) have a similar feature, but BigOven Pro's enormous 170,000-recipe library makes it even more likely these granular-type searches will yield a good number of recipe options.
What Would Be Even Better: I wish BigOven Pro took better advantage of the iPad's larger screen to format its recipes in a way that made them easy to follow while you're in the kitchen. This app displays the recipe directions all in one big unformatted text block – I found this really hard to read. Other apps break the method up into individual steps – or even individual screens, as with Jamie Oliver 20 Minute Meals – which seems much more user-friendly.
Price: FREE for BigOven and BigOven Lite; $9.99 for BigOven Pro
Devices: iPhone (BigOven), iPad (BigOven Lite, BigOven Pro), Android (BigOven)
Download BigOven (iPhone) from iTunes
Download BigOven Pro (iPad) from iTunes
Download BigOven Lite (iPad) from iTunes
Download BigOven from the Android Market
* * *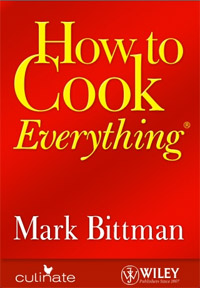 How to Cook Everything
"The first-of-its-kind app of Mark Bittman's bestselling cookbook includes 2,000 recipes and 400 how-to illustrations – plus specially designed features for the mobile user."
Great For: Cooks of all skill levels and interests
Special Features: You name it, this app's got it: user-friendly browsing and searching, user ratings, built-in cooking timers embedded in the recipes, recipe variations, flexible shopping lists, extensive cooking tips.
Why I Like It: What I especially like about this app is all of the how-to information it offers. A substitution for buttermilk, advice for pressing liquid out of tofu…this is the kind of information I often find myself frantically Googling on my phone, mid-preparation. This app is a treasure trove for this type of information – and it's all easily accessible on the fly.
What Would Be Even Better: Nothing, at the moment. I'm going to venture to say this is the best cooking app out there, in terms of its depth and breadth of content, customizable features and maximization of the iPhone's capabilities. This app is currently setting the bar.
Price: $4.99
Device: iPhone, iPad
Click Here to Download How to Cook Everything from iTunes
* * *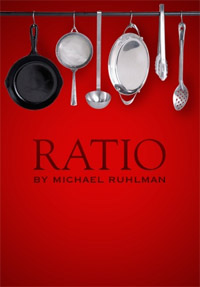 Ratio
"Free yourself from recipes! The best-selling cookbook, 'Ratio: The Simple Codes Behind the Craft of Everyday Cooking'…is now an iPhone app that will help you calculate amounts of ingredients in all the fundamental culinary preparations. When you know a ratio, you don't know a recipe, you know 1,000. And this application does all the calculating for you."
Great For: Experienced cooks who enjoy cooking without recipes
Special Features: The whole concept of this app, by Michael Ruhlman, is one big "Special Feature". It easily calculates the quantities of ingredients – in a variety of units of measure – needed to make everything from pound cake to hollandaise sauce.
Why I Like It: I most often cook with recipes, but I would absolutely love the freedom to be able to cook more often without one. I have Ruhlman's book and now I'm glad to have the iPhone app to help make the calculations necessary to put these ratios to work when I'm in the kitchen.
What Would Be Even Better: If you've baked muffins many times before, it will be fun to experiment with the muffin ratio to come up with your own variations. But for more novice cooks, this approach might be a little intimidating and challenging to execute. The actual Ratio book actually includes a few recipes that illustrate the ratios in action – including these in the app might make it more accessible to a broader audience of home cooks.
Price: $4.99
Device: iPhone
Click Here to Download Ratio from iTunes
* * *
GroceryiQ
"Grocery iQ is the most feature-rich grocery shopping application available for the iPhone and iPod touch."
Great For: Anyone who goes grocery shopping
Special Features: Scan items from your pantry to add them directly to your shopping list; through a partnership with Coupons.com, you can add electronic coupons to your grocery store card directly from the app.
Why I Like It: I haven't found any other shopping list functionality that's more customizable than GroceryIQ. In fact, I actually don't use any of the shopping list features in the other apps I've mentioned in this post – I enter everything into this one. Not only can I easily summarize my shopping list by grocery store aisle but I can also order the aisles to match my grocery store layout. For example, if fresh produce is the first section I'll encounter at the store, I can display the list with fresh produce listed first. Better yet, I can save store layouts for multiple stores so no matter where I shop I can quickly find what I need. This has been an enormous timesaver, plus I've noticed that I'm now less apt to pick up impulse purchases.
What Would Be Even Better: Through the List Sharing feature you can sync up your shopping list with other users (e.g., a spouse or roommate). I'd also love to be able to sync my grocery lists with myself, across my devices (i.e., I could enter items on my iPad at home, sync, and access the same list on my iPhone at the grocery store).
Price: FREE
Device: iPhone, iPad, Android
Download GroceryIQ from iTunes
Download GroceryIQ from the Android Market
* * *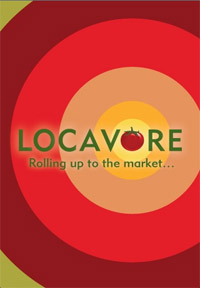 Locavore
"The Locavore iPhone app will come in handy next time you're at the market and want to know what's actually being grown near you, and what is most likely to taste the best right now."
Great For: Anyone who likes to cook and eat foods that are currently in season
Special Features: Uses the iPhone's location feature to identify produce that is in season in your area (you can also look up seasonal foods in other areas). There's a unique social media feature called "I ate local" where you can log in, via Facebook Connect, and report on local produce that you've sampled – the market where you found it and what it was like. At the moment it doesn't appear they've reached a critical mass of takers for that feature yet, but it's an interesting concept.
Why I Like It: I ran the farmer's market locator feature and was pleasantly surprised to find there was a new farm stand less than a mile from my house I didn't even know about. When the guy running the stand asked about how I'd heard about them he was equally surprised when I responded, "From my phone."!
What Would Be Even Better: This would be the perfect app to provide guidance for selecting the best produce. Hopefully they'll add that in a future release, as it's the natural next step once you've identified what's in season near you.
Price: $2.99
Device: iPhone, Android
Click Here to Download Locavore from iTunes
Download Locavore from the Android Market
* * *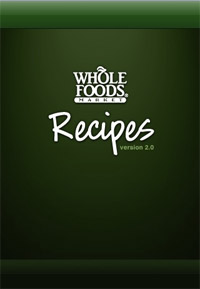 Whole Foods Market Recipes
"Looking for healthy and delicious food? Search Whole Foods Market Recipes for recipes featuring the finest natural and organic foods. You can search recipes by ingredients and dietary preferences such as gluten-free, low fat, and vegetarian/vegan. Every Whole Foods Market recipe includes nutritional information and cooking instructions."
Great For: Especially good choice for those with special dietary requirements and health-minded cooks
Special Features: For those with dietary restrictions (e.g., gluten-free, vegan, dairy-free, etc,) this app has you covered with a large variety of recipes meeting those requirements and an easy way to navigate to them. Like BigOven, it also has an "On Hand" feature where you can enter up to three items from your pantry and it will suggest recipes that use them. Nutritional data is provided for each recipe as well.
Why I Like It: Simple, straightforward navigation gets you to the recipes fast, and those recipes reflect Whole Foods' emphasis on high quality, natural foods.
What Would Be Even Better: There are no ratings or reviews for the recipes at the moment – it would be really helpful to see how the dishes came out for other users.
Price: FREE
Device: iPhone, iPad, Android
Download Whole Foods Market Recipes from iTunes
Download Whole Foods Market from the Android Market
* * *
Hungry for more? Check out Part 2 of my favorite cooking apps list!