I'm secretly  hoping that this will be the year the homemade Mother's Day gifts start coming. Aren't they sort of a rite of passage?  Our school classrooms would turn into little workshops this time of year, turning out everything from tissue paper flowers to ceramic ashtrays (Did we seriously make those? I am really dating myself here.). I would be bursting with pride as I presented my mom with my annual creation. And my mom did her very best to convey awe and admiration. That's good stuff.
If you're looking for a homemade Mother's Day gift that's sure to be a hit, think about pulling together a batch of this Sea-Salted Smoky Almond Chocolate Bark. It's incredibly simple – just three ingredients – and you can just imagine how it tastes. Whoever discovered that salt brings out amazing flavors in chocolate is my personal hero. The combination of smoky almonds and rich dark chocolate is also striking. In a fabulous way.
Check out the note my sweet husband scribbled out for me on the pan of chocolate bark: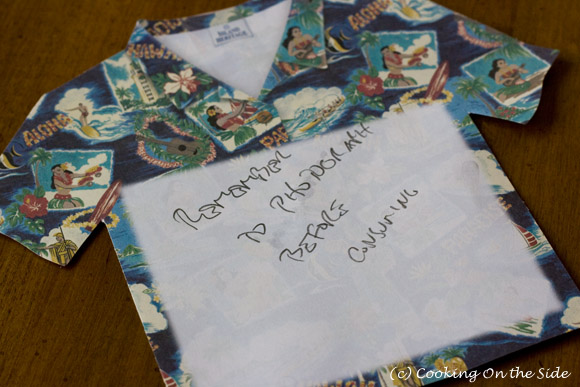 He knows me too well. 🙂
Sea-Salted Smoky Almond Chocolate Bark
From the Nestlé Toll House Chocolatier 53% Cacao Dark Chocolate Baking Bar package
Makes about 1/2 pound or 7 servings
INGREDIENTS:
2 bars (8 oz.) dark chocolate, broken into small pieces
1/2 cup smoked-flavored almonds, coarsely chopped, divided
1/8 teaspoon sea salt (preferably large crystal)
DIRECTIONS:
Line an 8-inch baking pan with wax paper.
Microwave chocolate in small, uncovered, microwave-safe bowl on High (100%) power for 1 minute; stir. If pieces retain some of their original shape, microwave at additional 10- to 15- second intervals, stirring just until melted. Stir in 1/4 cup almonds.
Pour into prepared baking pan. Sprinkle with remaining 1/4 cup almonds. Tap pan several times to spread chocolate and settle nuts. Sprinkle with sea salt. Refrigerate for about 1 hour or until firm. Break into pieces. Store in airtight container at room temperature.