Dip Week on Cooking On the Side continues…with Tomatillo-Lime Salsa.
I wish I could let you taste this salsa through your computer screen because it's unlike most salsas I've ever tasted. It's not zesty like a pico de gallo or spicy like a chipotle salsa. It's not sweet like a mango salsa, although the lime juice adds a touch of sweetness. "Fresh" is really the best word to describe it.
Something interesting happens when tart tomatillos (aka green tomatoes) unites with lime juice and zest. You still get the tartness, but it's mellowed out a bit by the citrus, leaving you with this really bright, fresh, mouthwatering flavor on your palate. And then when you dip in a salty tortilla chip…it's pretty much a flavor explosion.
I've got one more dip left to share this week – I promise it's a good one!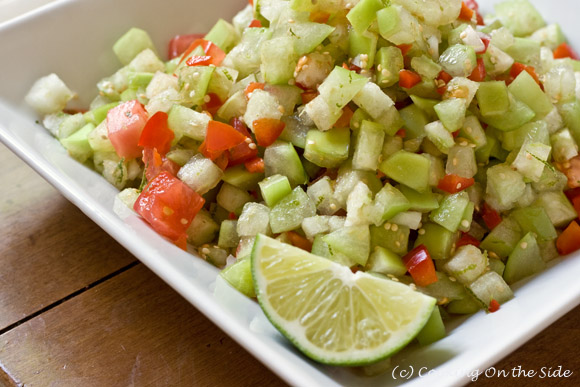 Fresh Tomatillo-Lime Salsa
From the Fresh Lime Salsa recipe on the back of the Mission Tortilla Strips package
INGREDIENTS:
1 large ripe red tomato, diced
8 medium-sized tomatillos (about 8 oz.), husked, rinsed, and chopped*
1/4 cup minced red bell pepper
1/2 teaspoon minced onion
1 teaspoon grated lime peel
1 tablespoon lime juice
Tortilla chips
DIRECTIONS:
Mix all ingredients together in a nonmetal bowl. If made ahead, cover and refrigerate up to four hours. Serve with tortilla chips.
* I found tomatillos in the produce department at my local grocery store, near the peppers.