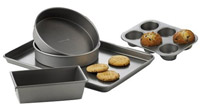 Thanks to all who participated in my Calphalon bakeware giveaway! I've been having a blast clicking through all the "best dishes" links you included in your entries. And the 36 "best cooking and baking tips" you left on Facebook? Those are so fabulously helpful that I plan to turn them into a post soon.
Random.org selected entry #14 – Kathleen Sneider – as the winner:

Cornmeal dumplings sound pretty amazing. Congrats, Kathleen – happy baking!