Cooking On the Side is one year old today! What better way to celebrate than with the best vanilla cupcakes I've ever made and a bakeware giveaway?
I started this blog after becoming intrigued by all of the recipes I noticed on the side of the food packages in my pantry, fridge and freezer. After writing Panini Happy for a little over a year I felt a yearning to explore food blogging beyond sandwiches. "Revealing" these recipes has been an incredibly rewarding (and tasty!) ongoing project – thank you all so much for your thoughtful comments, for sharing the recipes and for coming along for the ride.
And now for the giveaway…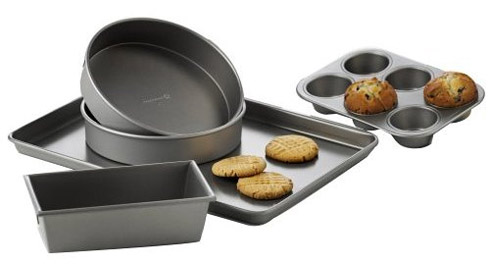 I love my Calphalon cookware and bakeware and have used it to prepare pretty much every dish on this blog. So in honor of my 1st anniverary on Cooking On the Side I want to send one lucky reader a Calphalon Classic 5-Piece Bakeware Set.* It includes the following:
12-by-17-inch jelly roll pan
6-cup muffin pan
8-by-5-inch loaf pan
2 round 8-inch cake pans
That ought to set you up pretty nicely for a whole lot of baking!
[THE CONTEST IS NOW CLOSED] TWO ways to enter the giveaway:
Leave a comment on this post – What was the best dish you cooked or baked in the past year? Feel free to leave a link to the recipe if you have one!
Leave a comment on the "It's GIVEAWAY Time!" post on the Cooking On the Side Facebook Fan page (there's another question to answer over there).
You can enter once in each place, for a total of 2 entries. That's it – no other crazy hoops to jump through. That said, if you feel like tweeting this giveaway I'll love you forever. 🙂
The giveaway closes on Monday, March 29, 2010 at 12:00 PM PDT. Each entry will be assigned a number and one winner, selected at random via random.org, will be announced on Tuesday, March 30, 2010. Due to shipping costs, this giveaway is open to readers with U.S. and Canadian addresses only. [THE CONTEST IS NOW CLOSED]
* This is not a sponsored giveaway. It is funded 100% by yours truly.
Who wants cake? (Recipe follows)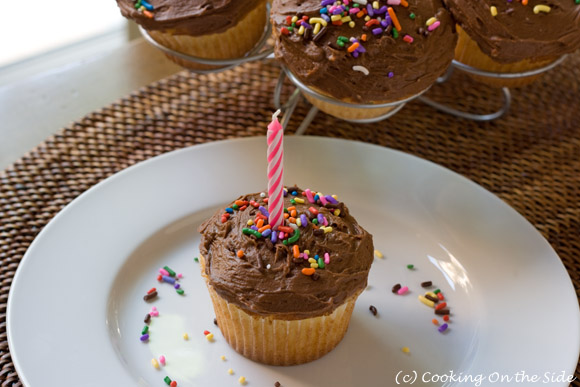 Vanilla Cupcakes with Chocolate Buttercream Frosting
Adapted from the 1-2-3-4 Cake recipe on the back of the Swans Down Cake Flour box
Makes about 1-1/2 dozen cupcakes
Cake:
INGREDIENTS:
1/2 cup butter, softened
1 cup sugar
1 1/2 cups sifted cake flour
1 1/2 teaspoons baking powder
1/4 teaspoon salt
2 eggs
1/2 cup milk
1/2 teaspoon vanilla extract
1/4 teaspoon almond extract
DIRECTIONS:
Preheat oven to 350°F. Place cupcake liners in muffin pan.
In a mixing bowl, cream butter and gradually add sugar, creaming until light and fluffy. Add eggs one at a time, beating well after each addition. In another bowl, sift flour with baking powder and salt. Add flour mixture alternately with milk and flavorings to creamed mixture, beating after each addition until smooth.
Fill cupcake liners 2/3 full. Bake for about 20 minutes or until a toothpick inserted in the center of cupcakes comes out clean. Cool in pans 10 minutes. Remove from pans and finish cooling on racks.
Frosting:
INGREDIENTS:
3 3/4 cups confectioners sugar
1 stick of butter, softened
3-4 tablespoons milk
1 teaspoon vanilla extract
2 ounces unsweetened chocolate, melted and cooled
DIRECTIONS:
Combine in a large bowl, confectioners sugar, butter, milk and vanilla. Beat at medium speed 1-2 minutes until creamy. Add chocolate and beat until well blended. If necessary add more milk 1 tablespoon at a time to reach desired spreading consistency.