I had no idea what a Mississippi Mud Bar was. But I wanted one.
As you can tell from the photos this was an over-the-top, incredible treat. It turns out that Mississippi Mud Bars, as defined by Ghirardelli in a recipe inside their semi-sweet chocolate baking bar wrapper, are comprised of a chocolate-white chocolate chunk and walnut cookie base with more melted chocolate, white chocolate and walnuts sprinkled on top. I imagine they're a riff on the Mississippi Mud Pie which, according to Wikipedia, "contains a gooey chocolate filling on top of a crumbly chocolate crust."
Would you believe me if I told you my husband and I actually thought these tasted light?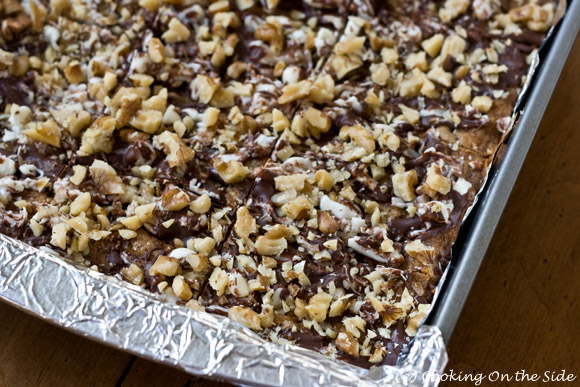 It must be all the butter and sugar that gives them that melt-in-your mouth texture. I thought they'd be dense and fudgy, like brownies, but they're definitely more like cookie bars. The toughest part is waiting for them to cool so you can cut them. I must have circled back to that pan a hundred times in anticipation.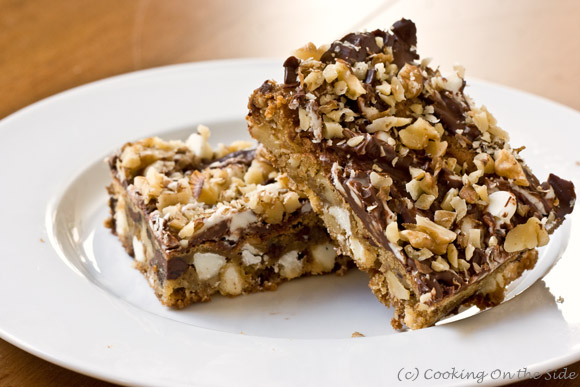 Mississippi Mud Bars
From inside the Ghirardelli Semi-Sweet Chocolate Baking Bar wrapper
Serves 10-12
INGREDIENTS:
1/2 cup butter or margarine, softened
3/4 cup brown sugar, firmly packed
1 teaspoon vanilla extract
1 large egg
1 cup all-purpose flour
1/2 teaspoon baking soda
1/4 teaspoon salt
1 bar (4 oz.) semi-sweet chocolate, chopped and divided
1 bar (4 oz.) white chocolate, chopped and divided
1 cup walnuts, chopped and divided
DIRECTIONS:
Preheat oven to 350°F.
Beat butter, sugar, egg and vanilla until light and fluffy. Mix in flour, baking soda and salt. Stir in half of the semi-sweet and white chocolate and 1/2 cup of the walnuts. Spread in greased foil-lined 9″ square baking pan. Bake 12-15 minutes or until toothpick inserted in center comes out almost clean.
Sprinkle with remaining semi-sweet and white chocolates. Cover with foil. Let stand 5 minutes or until chocolates are melted.* Swirl chocolates with small knife to marbelize. Sprinkle with remaining 1/2 cup walnuts. Cool in pan until firm, then cut into bars.
* If you substitute white chocolate chips for the chopped white chocolate, as I did, you may need to allow a few minutes longer for the chips to melt.