I did a smart thing this past fall and began storing the freezer bowl of my ice cream maker in the freezer so I could be ready to whip up a quart of ice cream whenever the mood struck. Well, the mood struck this weekend.
I had to sort of bend my "rules" a little to include this ice cream recipe on Cooking On the Side. They don't actually have any recipes on the Baileys Irish Cream bottle, which was a bummer as I really wanted to try a Baileys recipe for St. Patrick's Day. So I invoked a "holiday exception" and went over to the Baileys.com website for this one.
This stuff is pretty awesome. It's basically a rich, vanilla custard base with a shot of Baileys for good measure. The flavor balance is just perfect – the taste of Irish cream is definitely there, but not "boozy". Since the Baileys goes in after the cooking process there is alcohol, so this isn't really one for the kids. But it's just as well, because that means more for you!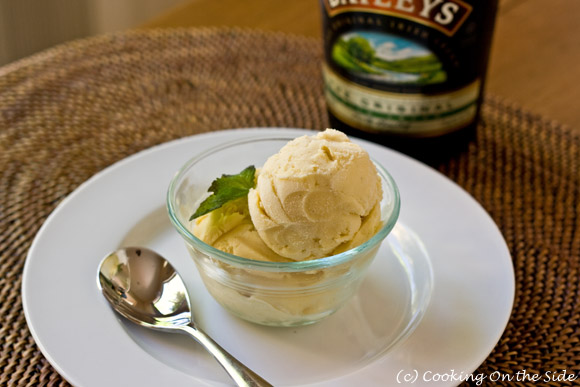 Baileys Irish Cream Ice Cream
Adapted from the Baileys Irish Cream website
INGREDIENTS:
6 egg yolks
4 oz. (1/2 cup) extra fine sugar
18 fl oz. milk
1/2 pod vanilla, split
1/2 tsp vanilla extract
2 fl oz. (1/4 cup) heavy cream
2 fl oz. (1/4 cup) Baileys Irish Cream
DIRECTIONS:
Use a whisk to beat the eggs with 1 oz. of the sugar in a bowl until the mixture lifts from the surface in ribbons. Put the milk, the remaining sugar and the vanilla into a saucepan and bring to the boil. Pour over the egg mixture, beating well. Return to the saucepan and heat gently to thicken the mixture until it coats the back of a spoon – don't heat too fiercely or it will turn to scrambled egg. Strain through a sieve and leave to cool. Beat the heavy cream and Baileys Irish cream into the mixture.
If you have an ice cream maker:
Chill thoroughly, then freeze the cream mixture in your ice cream maker according to the manufacturer's instructions.
If you don't have an ice cream maker:
Put the cream mixture in a large freezer container and freeze. Remove from the freezer every 15 minutes to beat out any large ice crystals that have formed, until the mixture is mousse-like. Freeze until set, about 2 hours.