I'm an Auntie! My sister and her husband welcomed their first child, a baby boy, earlier this week (with a rather quick labor for a first child, I might add – just 6 hours!) and we're all overjoyed. They just brought him home from the hospital yesterday, so now the real fun begins. The "new guy" is just 11 weeks younger than my own little man – our family holiday gatherings will forever have a new "energy" with these two little boys running around!
My nephew is actually among a huge wave of births going on among my friends. There have been at least eight new babies since October (three just in the last week) and another five or six friends are due before June. It's incredible! Everyone gives each other a lot of support, which is especially appreciated in those early days when you're a zombified mess from lack of sleep. A number of fantastic ladies brought over homemade meals after I had my son in December and I'm excited to have the opportunity to "pay it forward".
Which brings me to baked pasta…and this wonderful Shrimp with Orzo recipe, from inside the wrapper of a can of crushed tomatoes.
I've found that few dishes transport, freeze or reheat as well as baked pasta. They're confined to a single dish, often easy to assemble, and most people seem to like it. My friend Larissa recently brought us an unbaked baked ziti so we could enjoy it fresh from our own oven. Brilliant! If you're one of my local friends who is about to bring home a new little one you can expect to receive a tray of this Shrimp with Orzo. I couldn't get enough of that salty, creamy feta on top! It worked so well with the shrimp, spinach and tomatoes. We've been reheating it for lunches this week as well, and it only gets better.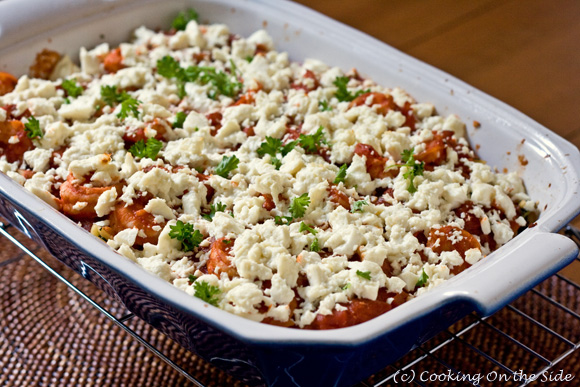 Shrimp with Orzo
From inside the CONTADINA Crushed Tomatoes can wrapper
Serves 10
INGREDIENTS:
2 cups orzo
2 tablespoons olive oil, divided
1 package (10 oz.) frozen spinach, thawed and squeezed dry
1 can (14.5 oz.) diced tomatoes, drained
2 cloves garlic, finely chopped
1 lb. shrimp, shelled and deveined
1 can (28 oz.) crushed tomatoes
1 teaspoon oregano
8 oz. feta cheese, crumbled
DIRECTIONS:
Preheat oven to 350°F. Lightly grease an 11×15-inch pan. (I used a 13×9-inch pan and it worked out fine)
Cook orzo according to package directions; drain and toss with 1 tablespoon olive oil. Stir in spinach and drained diced tomatoes. Spoon into prepared pan.
Cook garlic in remaining oil. Add shrimp; sauté until just pink. Add crushed tomatoes and oregano; simmer until slightly reduced. Season to taste with salt and pepper. Spoon over orzo mixture; top with cheese.
Bake 15 minutes or until heated through. Garnish with parsley, if desired.