Yes, it's a CAKE!
That seriously looks like a real peanut butter and jelly sandwich, doesn't it? No kidding, within 1 minute of seeing Sneh's Cakewich (that's what this is called) on Cook Republic, I had one-click ordered a Cakewich pan from Amazon. This blog turns 2 years old today and I'm celebrating with a fun, toddler-approved cake (at least the toddlers who live in my house loved it)!
As cute as it is, this cake tastes even better. In fact, I delighted in this pound cake as much as with the Meyer Lemon Whipping Cream Pound Cake I raved about a few weeks ago (yes, it's been a pound cake kind of month). The cake itself is very moist and flavorful – even after five days at room temperature on my kitchen island – and that frosting is like peanut butter's richer, sweeter, fluffier cousin. It's definitely more than a gimmick, this cake is legit. If you'd like to see how I made this massive cake sandwich, check out today's post on my other blog, Panini Happy.
Cakewich Silicone Pan Giveaway – 2 Winners! [THE GIVEAWAY IS NOW CLOSED]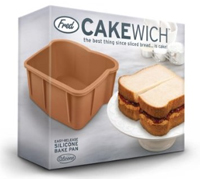 In celebration of two years of Cooking On the Side, I would love to send two readers one of these Cakewich silicone baking pans. Here are four ways to enter, you can do any or all of them (please leave separate comments for each entry):
Leave a comment on this post sharing the most unusual cake you've ever made, seen or eaten.
"Like" Cooking on the Side on Facebook
Follow me @paninikathy on Twitter
The giveaway will close on Monday, March 28, 2011 at noon PDT. I will use random.org to select two winners to receive the Cakewich pans and announce the winners in this post. Apologies to my international readers, due to shipping costs I can only send the prize to U.S. addresses.
**UPDATED 3/29/11 – Congratulations to the winners!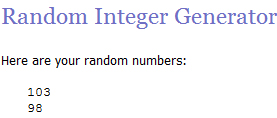 Congrats to the Cakewich pan winners, Cheryl (#98) and ironchefman (#103)!
This giveaway is sponsored by yours truly. 🙂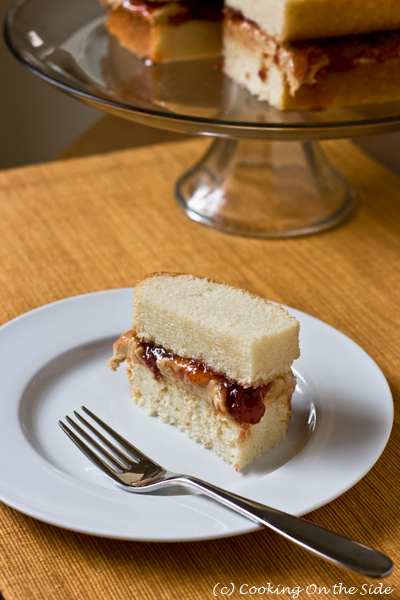 Peanut Butter & Jelly Pound Cake
From the CAKEWICH silicone baking pan box
Prep time (including cooling): 2 hr 30 min | Cook time: 1 hr 10 min | Total time: 3 hr 40 min
INGREDIENTS:
Cake:
2 cup

all-purpose flour (spoon flour into dry-measure cup and level off)

1 1/2 teaspoons

baking powder

1/4 teaspoon

salt

3/4 cup

unsalted butter, softened

1 1/2 cups

sugar

2 teaspoons

vanilla extract

6

large egg whites

3/4 cup

milk
Frosting:
1/4 cup

unsalted butter, softened

heaping 1/2 cup

creamy peanut butter (I would not recommend using natural peanut butter)

3/4 cup

confectioners sugar

1/2 teaspoon

vanilla extract

1/2 cup

fruit jelly, slightly warmed
DIRECTIONS:
For the cake:
Set rack at the middle level and preheat oven to 315°F.
Grease and flour the inner bottom surface of your CAKEWICH cake pan.
Combine the flour, baking powder and salt in a bowl, mixing well with a whisk.
Whisk together the egg whites and milk by hand in a medium mixing bowl until just combined.
In a heavy-duty mixer, cream butter and sugar until light and fluffy, about 5 minutes. Add vanilla and beat vigorously.
Reduce speed to low and add one-quarter of the flour, then one-third of the milk mixture, mixing until just combined, scraping down the bowl and beater after each addition. Repeat until all ingredients are just combined.
Scrape the bowl well with a large rubber spatula. Pour the batter into the CAKEWICH pan and smooth the top.
Bake for about 60 to 70 minutes, until a toothpick inserted in the center emerges clean.
Cool the cake in the pan on a cooling rack for one hour, then unmold it to finish cooking right side up.
For the frosting:
Place the butter and peanut butter into a medium bowl, and beat with an electric mixer for several minutes until combined.
Gradually mix in the sugar until combined.
Add vanilla and beat for 3 minutes until fluffy.
To assemble:
Using a serrated bread knife slice off the CAKEWICH "dome" then slice again through the center horizontally.
Spread the peanut butter frosting on the first layer of cake. Spread a thin layer of jelly on top of the frosting.
Place second layer of cake on the first, making sure the cut side is visible. For easier cutting, refrigerate cake for one hour before serving.