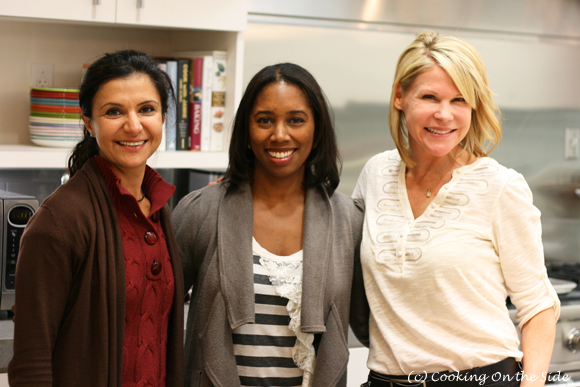 These ladies with the gorgeous smiles standing with me in the photo above are Ani Simón and Chris Garboski, managers of the test kitchens at Nestlé USA. I took a little road trip up to the Los Angeles area last week to visit the Nestlé headquarters in Glendale, see firsthand what goes on in the test kitchens and find out what it's really like to be an in-house recipe developer at a major food company.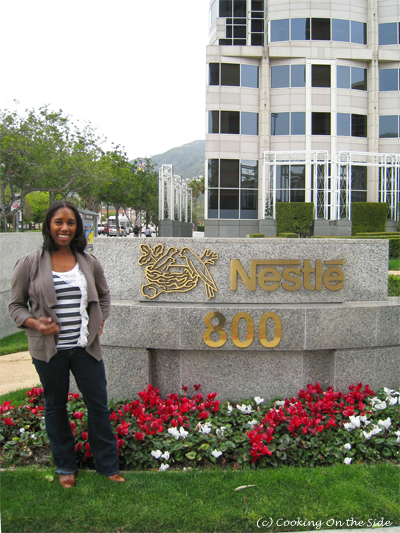 I didn't realize before that Nestlé is actually the world's largest food company, with more than 25,000 employees in the United States alone. Besides Toll House morsels (aka, chocolate chips), which is the product I most often associate with the company, Nestlé USA owns a slew of other well-known brands, including Buitoni, Carnation and Libby's Pumpkin. A major corporate headquarters might be the last place you'd expect to encounter warm hospitality, but that's exactly what I experienced during my visit. Entering Chris and Ani's workplace kitchen was like being a guest in their home.

When I arrived, Chris was baking melt-in-your-mouth light kale chips that she had seasoned with Buitoni pesto. "They've got another minute and thirty-nine seconds," she determined after peering into the oven. My initial response was Wow, she really does have this whole recipe testing thing down to a precise science! She laughed…and showed me the little digital timer she was reading from.
After nineteen years in the Nestlé kitchens, starting as a nutrition major right out of college, Chris Garboski probably does have this role down pat. Chris and I first "met" on Twitter, of all places, and later we had the chance to meet in person at the BlogHer Food conference in San Francisco last October. Her counterpart, Ani Simón, who specializes in developing recipes for the Emerging Markets division (e.g., La Lechera, Abuelita and Maggi brands) first started as an intern at Nestlé and is now a registered dietitian.
Developing simple, nutritious and economical recipes featuring the various Nestlé brands is the primary role of the kitchens. They will typically receive a request from the marketing teams for, say, ten Valentine's Day treats. Then Chris and Ani will work on concepts in the kitchens. They take into account the latest food trends and their understanding of Nestlé consumers' tastes, and present their dishes to the marketing folks for feedback. The recipes they create end up printed on the side of the food packing (we like that on this blog!), as well as in various print media outlets, on their own Nestlé Kitchens blog and Meals.com. It's an absolute dream job for someone who enjoys getting creative in the kitchen, if you ask me!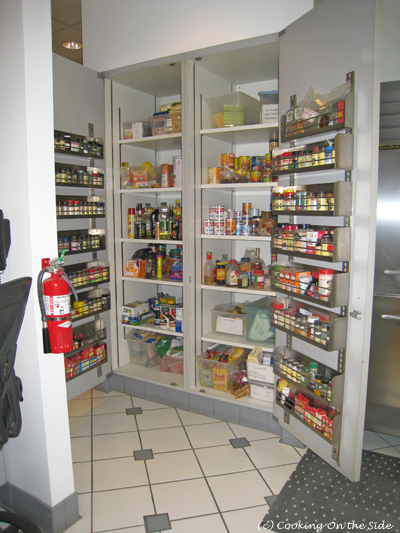 The first thing that struck me when I entered the kitchens was that they're real kitchens. Not labs, or even lab-like. They're definitely spacious and pristine – way more so than at my house – but the scale of their operation is more consumer than commercial. I envisioned their pantry to be some warehouse-style food arsenal with every type of food imaginable, like on Top Chef. In actuality, it's much more modest – well-stocked, for sure, but not in an institutional way. They use the kinds of ingredients that you or I might have at home so their efforts in the test kitchens can match the cooking experiences of the average consumer.
Even with the sweets, Chris likes to incorporate healthful elements wherever possible. For example, the dark chocolate chip cookies she baked on the day of my visit were made with whole wheat flour and less butter than usual (I couldn't tell a difference and I'm not really one for whole wheat!). The new-and-improved peanut butter cookie recipe she also prepared with natural peanut butter and came out crispy and delightful, which I consider a real feat. If you've ever tried making peanut butter cookies with natural peanut butter rather than conventional Skippy or Jif you know it often doesn't work out quite right. As more of us are going for organic, all-natural ingredients it's up to the test kitchens to stay current with those preferences and adapt traditional recipes as needed.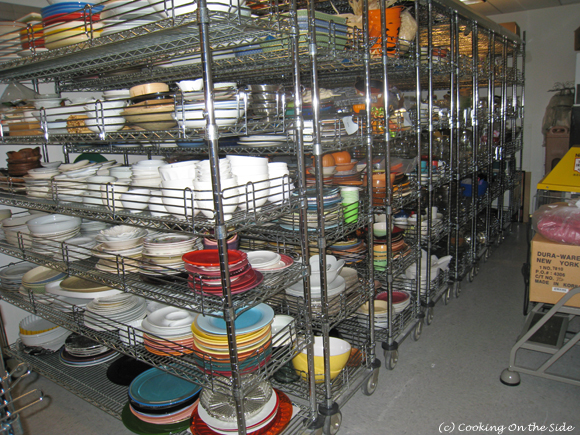 While the kitchens are designed to simulate a home environment, one glance into their prop room quickly reminded me that, yes, it's still a corporate operation here. There was row upon row of neatly stacked serveware, glassware, silverware…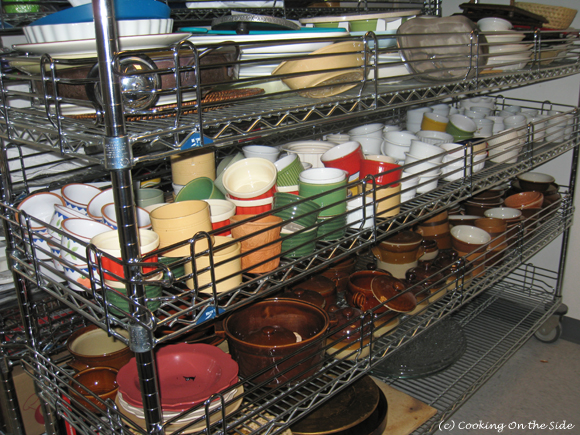 …and ramekins! Have you ever seen this many ramekins? I'm thinking this section may have exploded during the crème brûlée craze in the late '90s. 🙂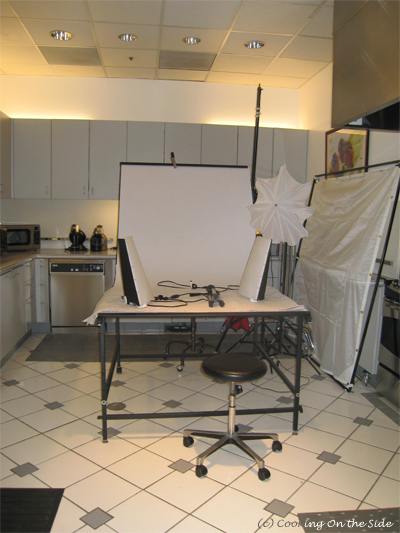 In addition to their recipe development responsibilities, Chris and Ani have become food bloggers, writing frequent posts for the Nestlé Kitchens blog. They've got a photo setup in their kitchen just like I do, albeit with better equipment and no crayons, Crocs or three-year-olds around the periphery.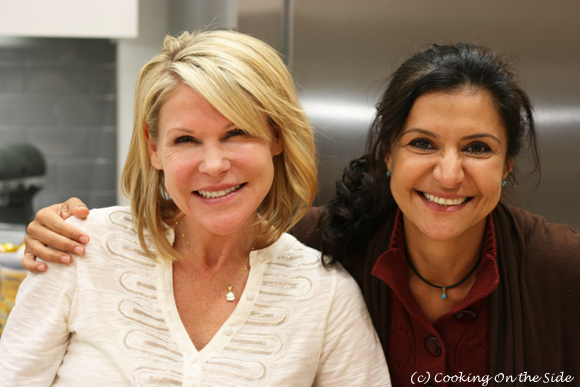 It was a recent post that Chris wrote on their blog about the kitchens' appliance makeover that prompted me to propose a visit. It just looked like such an interesting place to work within the food industry and I was intrigued. I got in touch with Chris and within a few hours we had a date on the calendar. Three weeks later I had the chance to meet up with her and Ani and tour the kitchens. Thank you, ladies, so much again for a fantastic visit!
Later this week…I couldn't decide which Nestlé recipe I wanted to feature along with this post, so I combined TWO. I think you're gonna like it!