We love living in California but if my husband and I could change just one thing it would be to have our families closer. Both sets of parents and most of our siblings live on the East Coast. On Mother's Day we catch up with our moms on the phone and send cards but we usually aren't near enough to sit down together for a good old-fashioned Mother's Day brunch. So this year, in honor of our moms, I'm preparing a little "virtual" brunch on Cooking On the Side – along with an IOU to make the real thing the next time we see each other. Two dishes, this post and the next, both special occasion-worthy and incredibly delicious.
If I didn't already know that today's Sour Cream Pecan Coffee Cake recipe came from a box of dark brown sugar I probably could have guessed it. It has very pronounced brown sugar flavor and, with the help of the sour cream in the mix, the texture is melt-in-your mouth. Pecan streusel is layered throughout so you encounter nuts and spices (and more brown sugar!) in every decadent bite. I baked this coffee cake in a larger Bundt pan than was recommended so it's a little on the shallower side but it made no difference when it came to taste. I loved this coffee cake and I know our moms will too when we see them next.
Stay tuned for the next Mother's Day recipe – a savory Sausage Breakfast Casserole that you can assemble the night before!
P.S. I'm submitting this to the Celebrating Mother's Day blog event on Kopiaste.. to Greek Hospitality – the roundup of dishes will be posted on May 10.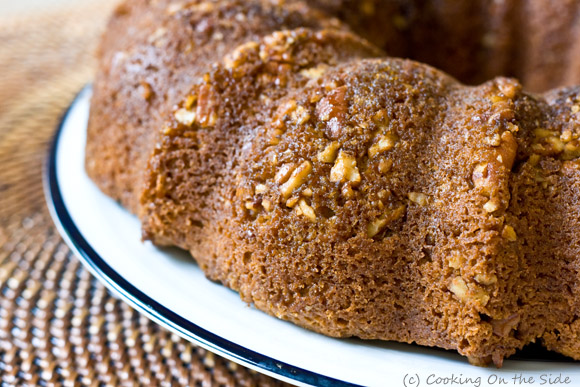 Sour Cream Pecan Coffee Cake
From the back of the C&H Pure Cane Dark Brown Sugar box
INGREDIENTS:
Topping:
1 cup coarsely chopped walnuts, pecans or hazelnuts
1/4 cup packed dark brown sugar
1/2 teaspoon nutmeg
1/2 teaspoon allspice
Cake:
2 cups all-purpose flour
1 teaspoon baking powder
1/2 teaspoon baking soda
1 cup butter, softened (if you use unsalted butter, as I did, add 1 teaspoon salt)
1 1/4 cups packed dark brown sugar
2 eggs
1 cup sour cream
1 teaspoon vanilla
DIRECTIONS:
Preheat the oven to 350°F. Grease and flour an 8-cup tube pan (I recommend using baking spray, if you have it – thanks to Lydia from The Perfect Pantry for that great tip!).
Topping:
Combine all ingredients and set aside.
Cake:
Stir together flour, baking powder and baking soda; set aside.
With an electric mixer, beat butter and brown sugar until fluffy. Beat in eggs, sour cream and vanilla. Gradually beat the flour mixture into the batter until well blended.
Sprinkle 1/4 of the topping into the prepared pan. Spoon on 1/3 of the batter. Continue layering, ending with topping mixture.
Bake 50 to 60 minutes or until pick inserted in the center comes out clean. Cool 15 minutes in pan; remove from pan to a cooling rach. Serve warm.