Around here, in San Diego, the margaritas will be flowing in a big way on Cinco de Mayo. Everyone has their preference when it comes to the refreshing cocktail: frozen or on the rocks. I tried a margarita recipe I found on a bottle of Triple Sec both frozen and on the rocks (yes, I am willing to sample multiple drinks for your benefit) and I determined my true margarita preference: sweet.
The recipe calls for a 2:1:1 ratio of tequila, triple sec and fresh lime juice. No sugar or other sweetener. Blech! Way too bitter for me. I understand that this the more traditional approach, and hopefully someday my taste buds will come to appreciate it. For now, however, I'm conditioned to enjoy my margaritas a bit on the sweet side. I added a teaspoon of sugar and it was just right.
¡Salud!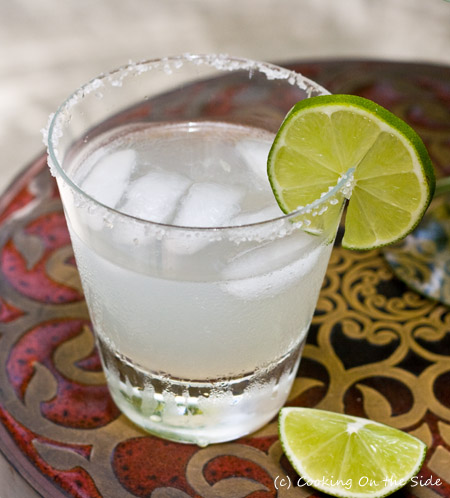 Margaritas
Adapted from the back of a bottle of Hiram Walker Triple-Sec Liqueur
INGREDIENTS:
2 parts premium tequila
1 part triple sec
1 part fresh lime juice
Sliced limes for garnish
OPTIONAL: 1 teaspoon sugar per 4-oz serving (if you prefer your margaritas sweet!)
OPTIONAL: 1 cup ice per 4-oz serving (if you are making the frozen version)
DIRECTIONS:
On the Rocks
Shake all ingredients together in a cocktail shaker (if you're using sugar, first stir to dissolve). Strain into a salt-rimmed glass with ice.
Frozen
Blend all ingredients in a blender until slushy (if you're using sugar, first stir to dissolve). Pour into a salt-rimmed glass.