It's Part II of my "virtual" Mother's Day brunch! To complement the brown sugary, melt-in-your-mouth Sour Cream Pecan Coffee Cake, I'll be celebrating my mom and mom-in-law with a savory Sausage Breakfast Casserole. I know they'll love it – both moms have prepared similar dishes for my husband and me when we've visited. It's the kind of breakfast we look forward to when we're together.
The hot sausage and pepper jack cheese give the casserole a little kick of heat without being overly spicy. With the custard soaked into cubes of country bread the dish is very much like a savory bread pudding, or strata. The mustard in the custard (I've been reading too much Dr. Seuss!) adds such incredible flavor yet it's subtle enough that the non-mustard fan in our house still doesn't know it was in there. I was intimidated at first by the idea of using ten eggs – it's a few more than I'm used to in a single recipe – but I came around when I realized it worked out to fewer than two eggs per person.
A slice of this casserole is a meal in itself. But if you're like me, you've always got a little room for cake too.
Happy Mother's Day!
P.S. I'm submitting this to the Celebrating Mother's Day blog event on Kopiaste.. to Greek Hospitality – the roundup of dishes will be posted on May 10.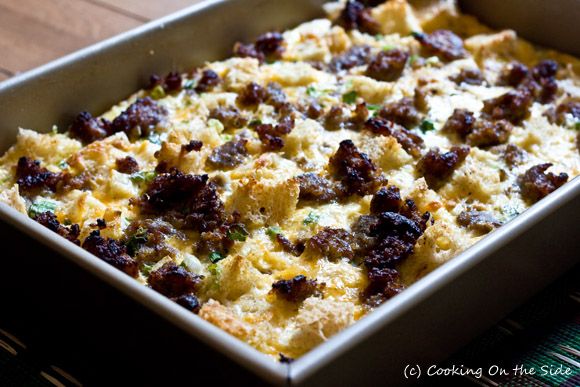 Sausage Breakfast Casserole
Adapted slightly from the Spicy Breakfast Casserole recipe on the Hot Flavor Jimmy Dean Pork Sausage package
Serves 6 (generously)
INGREDIENTS:
16 oz. package hot pork breakfast sausage
10 eggs, lightly beaten
3 cups milk
2 teaspoons dry mustard
1 teaspoon salt
6 cups cubed bread (I used a country levain, crusts removed)
4 oz. (1 cup) shredded pepper jack cheese
4 oz. (1 cup) shredded sharp cheddar cheese
1/2 teaspoon black pepper
1/2 cup thin-sliced green onions
DIRECTIONS:
Preheat the oven to 325°F.
In a large skillet, cook sausage over medium-high heat, stirring frequently until thoroughly cooked and no longer pink.
In a large mixing bowl, combine eggs, milk, mustard and salt; stir well.
Distribute half the bread evenly in a buttered 9″ x 13″ x 2″ baking dish. Sprinkle with half the pepper, half the cheese, half the sausage and half the onions. Repeat layering using remaining bread, pepper, cheese, sausage and onions. Pour egg mixture evenly over casserole.
Bake uncovered for 60 minutes, or until eggs are set. Tent with foil if the top begins to brown too quickly.
NOTE: May be assembled ahead and refrigerated up to 12 hours before baking.