It came as a surprise to many of my friends that I had never cooked artichokes until a few weeks ago. Here in California artichokes are kind of a staple, like avocados. In fact, nearly all artichokes in the U.S. are grown in this state (I just learned that). However, my parents were raised in New York so we just never really got into them at our house when I was growing up (avocados too, for that matter).
So, yes, I'm new to cooking artichokes. For my first foray into preparing them I followed Elise's guidance in this post on Simply Recipes and steamed them with garlic and lemon. It was so much easier than I'd imagined – I just trimmed all the little leaves with my kitchen shears, rinsed 'em and steamed 'em. I also love her suggestion of eating them with balsamic mayo, just the right sweet-acidic touch.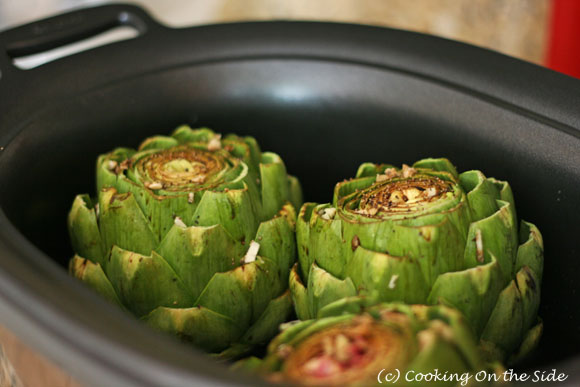 After successfully preparing them Elise's way twice, I felt confident enough to venture out into another artichoke prep method: slow cooker. As with many slow cooker recipes, it's a real no-fuss option. You just dress the artichokes in garlic, olive oil and balsamic vinegar and let them braise in white wine for four hours. The balsamic vinegar in this recipe actually brings out quite a bit of sweetness in the artichokes. The garlic, after slow cooking, also becomes sweet, like when it's roasted. I'm kicking myself for waiting so long to try artichokes, but better late than never, right?!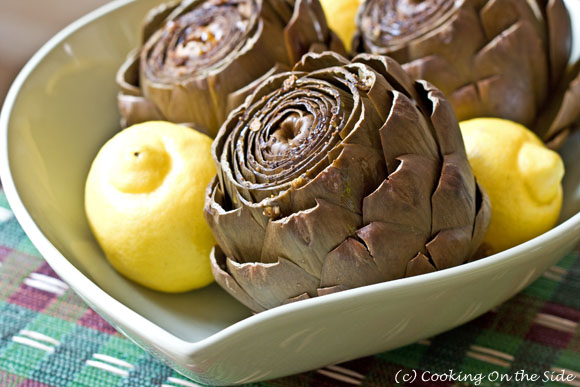 Slow Cooker Garlic Artichokes
From the Slow-Cooked Garlic Artichokes recipe card distributed in the produce department at Ralph's
Prep time: 15 min | Cook time: 4 hr | Total time: 4 hr 15 min
Yield: 4 servings
INGREDIENTS:
4

medium artichokes

4 tablespoons

minced fresh garlic, divided

4 tablespoons

balsamic vinegar, divided

1/2 cup

dry white wine or chicken broth

4 teaspoons

extra virgin olive oil, divided
DIRECTIONS:
Rinse artichokes well. Cut 1/2 inch off the top of each artichoke; trim the stem end so the artichoke stands flat. Pull the leaves open to hold the filling.
Spoon 1 tablespoon of the garlic evenly between the leaves of each artichoke. Place artichokes in slow cooker; drizzle each with 1 tablespoon of the vinegar. Season with freshly ground pepper to taste. Pour wine into the slow cooker and add enough water to come up one-fourth the sides of the artichokes.
Cook, covered, on HIGH 4 hours or until a knife is easily inserted into the stem end and the leaves pull away from the base. Remove from slow cooker and let cool slightly. Drizzle each artichoke with 1 teaspoon of the oil, and serve.