There was a moment of calm when I doled out the homemade strawberry ice cream cones. On the faces of my daughter and two little friends who were at our house last weekend – ages 2, 3 and 4 – were looks of focus, determination and, dare I say, intensity as they sought to catch every creamy pink drop on their tongues. All direct eye contact was averted. When I asked my little girl what she thought of her treat she broke concentration long enough to look up, smile and reply, "It's so tasty!" Then it was back to business.
The kids were right to savor each lick. This strawberry ice cream was unbelievably rich and fruity (made with a whole pound of fresh California strawberries). We've entered the time of year when I keep my ice cream maker insert in the freezer at all times just in case the mood strikes to churn some out.
The only thing that makes this ice cream better…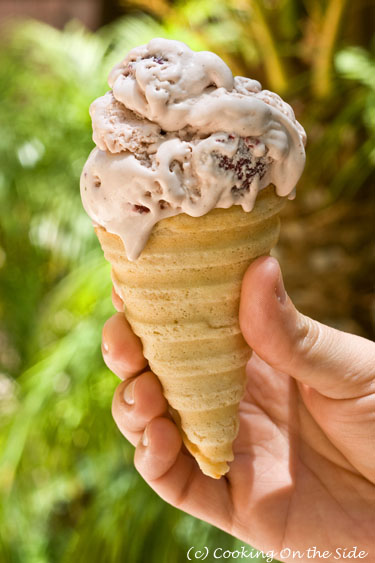 …is serving it in a homemade ice cream cone! See my post on my other blog, Panini Happy, to find out how I made ice cream cones on my panini maker.
Homemade Strawberry Ice Cream
From the Cuisinart Classic Frozen Yogurt-Ice Cream & Sorbet Maker recipe booklet
Prep time: 1 hour | Cook time: 30 min | Total time: 1 hr 30 min (plus chilling time)
Yield: 10 1/2-cup servings
INGREDIENTS:
1 lb. + 1/2 cup

fresh or frozen thawed strawberries, divided

1 1/4 cups

whole milk

1 3/4 cups

heavy cream

1

whole vanilla bean (about 6 inches in length)

4

large egg yolks

3/4 cup

granulated sugar

1 1/2 teaspoons

pure vanilla extract
DIRECTIONS:
Purée 1 lb. strawberries in a food processor or blender. Strain through a fine mesh sieve and discard seeds. You will have about 8-10 ounces of strawberry puree.
Combine the milk and cream in a medium saucepan with a heavy bottom. Use a sharp knife to split the vanilla bean in half lengthwise. Use the blunt edge to scrape out the "seeds". Stir the seeds and bean pod into the milk/cream mixture. Bring the mixture to a slow boil over medium heat, reduce the heat to low and simmer for 30 minutes, stirring occasionally.
Combine egg yolks and sugar in a medium bowl. Use a hand mixer on medium speed to beat until the mixture is thick, smooth and pale yellow in color (similar to mayonnaise), about 2 minutes.
Remove the vanilla bean pod from the milk/cream mixture and discard. Pour out 1 cup of the hot liquid. With the mixer on low speed, add the cup of hot milk/cream to the egg mixture in a slow steady stream. When thoroughly combined, pour the egg mixture back into the saucepan and stir to combine. Cook, stirring constantly, over medium low heat until the mixture is thick enough to coat the back of a spoon.
Transfer to a bowl and stir in strawberry purée. Cover with a sheet of plastic wrap placed directly on the custard, and chill completely.
Pour the chilled custard into the freezer bowl of your ice cream maker, turn the machine on and let mix until thickened, about 25-30 minutes. Five minutes before the ice cream is ready, add 1/2 cup sliced or quartered fresh strawberries.
Transfer the ice cream to an airtight container and freeze for about 2 hours or longer before serving. Remove from freezer about 10 minutes before serving.