In my seventh grade home ec class, circa 1987, we churned out such memorable delicacies as turkey tetrazzini, purple cows (that would be a tall glass of Shasta grape soda with a scoop of vanilla ice cream dropped in) and hamburger macaroni. But my favorite of them all was chocolate pudding pie. It called for three ingredients: instant chocolate Jell-o pudding, a pre-made graham cracker crust and Cool Whip. I thought this was heaven.
In 2011, Chocolate Cream Pie with Cinnamon and Ancho Chile is way more my style.
I'm not so much of a food snob now that I'd necessarily run away from instant chocolate pudding…but homemade chocolate pudding slowly stirred on the stove with Scharffen Berger chocolate stops me in my tracks. Sure, I'll bake pies with a store-bought pie crust every now and then…but a freshly baked graham cracker crust gently spiced with ancho chile powder and cinnamon is a thing of beauty. If a recipe insists on "frozen whipped topping" I'll probably just go with it…but I'll leave not a drop of vanilla-scented freshly whipped cream on my spoon.
This is the kind of dessert that, with its pillowy, mousse-like filling, "tastes light" even though you know it's oh-so-decadent. But I made it for a very special occasion – my husband's birthday – so it was well worth the indulgence. 🙂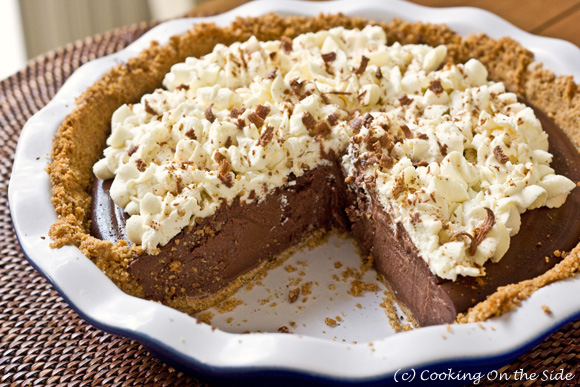 Chocolate Cream Pie with Cinnamon & Ancho Chile
From the Scharffen Berger Chocolate Cream Pie with Cinnamon and Ancho Chile recipe, by Alice Medrich, that was handed out to BlogHer Food '11 conference attendees
Prep time: 15 min | Cook time: 3 hrs (including cooling) | Total time: 3 hrs 15 min
Yield: 8 servings
INGREDIENTS:
For the crust:
1/3 cup

pecan pieces

1 cup

graham cracker crumbs

3 tablespoons

sugar

1/4 teaspoon

salt

1/4 teaspoon

ground cinnamon

1/2 teaspoon

ground ancho chile

4 tablespoons

melted butter

2 ounces (2/3 of a 3-ounce bar)

milk chocolate, finely chopped (reserve the rest of the bar in one piece, for garnish)
For the filling:
1/2 cup

sugar

1/2 cup

unsweetened cocoa powder

3 tablespoons

cornstarch

Scant 1/4 teaspoon

salt

2 1/2 cups

whole milk

1/2 cup

heavy cream

6 ounces

semisweet chocolate, finely chopped
For the topping:
1 cup

heavy whipping cream

1/2 teaspoon

vanilla extract

1 tablespoon

sugar

Cinnamon stick (for grating) or pinches of ground cinnamon

Pinches of ground ancho chile

Remaining 1/3 of a bar of milk chocolate
DIRECTIONS:
Make the crust:
Preheat the oven to 350°F with a rack in the lower third.
Finely chop the pecans in a food processor. Mix the pecans with the graham cracker crumbs, sugar, salt, cinnamon, ancho chile and butter. Press the mixture evenly and firmly over the bottom and sides (but not the rim) of a 9-inch pie plate. Bake until the crust begins to set and colors slightly, 12-14 minutes. If the crust puffs up while baking, press it gently back into place with the bottom of a spoon.
Remove the crust from the oven and sprinkle the chopped chocolate over the bottom. Let the chocolate soften for 1 to 2 minutes. Use the back of a spoon to spread chocolate over the bottom and sides of the crust.
Cool and then refrigerate the crust to harden the chocolate, about 20 minutes.
Make the filling:
In a heavy medium saucepan, whisk sugar, cocoa, cornstarch and salt to blend. Add about 1/4 cup of the milk and mix to form a smooth paste. Mix in the remaining milk and the cream. Using a heatproof spatula or wooden spoon, stir the mixture constantly over medium heat, scraping the bottom, sides and corners of the pan until pudding thickens and begins to bubble at the edges of the pot, about 5 minutes.
Continue to cook and stir for 30 seconds. Add the chocolate and stir briskly until the chocolate is melted and the pudding is smooth, about 30 seconds longer.
Remove the pan from the heat and immediately scrape the hot pudding into the chocolate-coated crust.
Let the pudding cool for 1 hour, undisturbed. Refrigerate the pie to set the pudding, or until serving.
Make the topping and finish the pie:
Whip the cream, sugar and vanilla until nearly stiff.
Spoon dollops of whipped cream around the edge of the pie (or, as I did, pipe whipped cream all over the top). Grate a little of the cinnamon stick (or sprinkle pinches of ground cinnamon) over the cream followed by pinches of ancho chile. Grate or shave a little of the remaining milk chocolate on top.