It turns out that today, June 14, is National Strawberry Shortcake Day (who knew?). Far be it from me to let this opportunity to try the Cream Biscuit Strawberry Shortcake recipe I've been holding for months slip by.
No offense to those Twinkie-like yellow strawberry shortcake sponge shells they sell in the produce department at the grocery store…but why did I ever, ever, ever believe for a second that they were the way to do shortcake? This is the way to do shortcake: homemade cream biscuits. Tender, flaky and buttery with a sugar crust on top, they're the perfect vessel to cradle a small pile of ripe, red strawberries and freshly whipped cream.
White Lily didn't steer me wrong the last time I made their biscuits (remember the biscuit bakeoff?) and they were just as light and melt-in-your mouth this time around too. If you don't have White Lily flour in your area – I picked up two more packages on my recent trip to Atlanta! – you can always use any other brand of self-rising flour in this recipe (I've noted the adjusted measurement).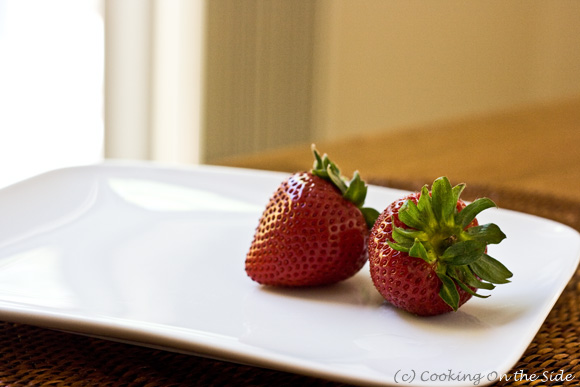 Cream Biscuit Strawberry Shortcake
Prep time: 35 min | Cook time: 20 min | Total time: 55 min (plus cooling time)
Yield: 4-4″ shortcakes or 8-2″ shortcakes
INGREDIENTS:
1 3/4 cup

self-rising flour (2 cups, if you're using White Lily Self-Rising Flour)

1 1/4 cup

sugar, plus 1/3 cup, divided

1/2 cup (1 stick)

cold butter (I used salted), cut into 1/2-inch pieces

2 1/4 cups

heavy cream, plus 2 tablespoons, divided

4 cups

sliced strawberries

1/2 cup

strawberry preserves (optional)

1/3 cup

powdered sugar
DIRECTIONS:
Heat oven to 425°F.
Combine flour and 2 tablespoons sugar. Cut in butter with a pastry blender or two knives until crumbs are the size of peas. Blend in 3/4 cup cream with a fork until dough holds together.
Turn dough onto a lightly floured surface. Knead 2 to 3 times. Roll to 3/4-inch thickness. Cut using floured 4-inch biscuit cutter (or 2-inch star-shaped cutters, as I did). Place on a parchment-lined baking sheet. Brush tops with 2 tablespoons cream. Sprinkle with 2 tablespoons sugar (I used about 1 tablespoon).
Bake 18 to 20 minutes or until lightly browned (if you're making 2-inch biscuits they will take 10 to 12 minutes). Cool on a wire rack.
Toss strawberries with 1 cup sugar. Whip 1 1/2 cups cream and 1/3 cup sugar in a small bowl with an electric mixer until soft peaks form.
Cut biscuits in half horizontally. Optional: Spread bottom half with preserves (I omitted this step). Top with strawberries and whipped cream. Place the top half over the whipped cream. Sprinkle with powdered sugar.
Updated June 14, 2011 by