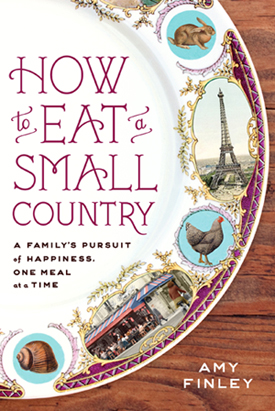 I'd been wondering what ever happened to Amy Finley. As a loyal fan of The Next Food Network Star, I tuned in to season three of the reality TV competition and rooted Amy, a fellow San Diegan, on to her eventual win. Just six episodes of The Gourmet Next Door, her grand prize cooking show, aired on the Food Network. We, the viewing public, haven't really seen her since.
That was four years ago. Now, with the release of her new food memoir, How to Eat a Small Country, we finally learn the reason why Amy Finley stepped away from her "dream job" as a Food Network star: to save her marriage.
Read on for my review of How to Eat a Small Country and a chance to WIN a copy of the book!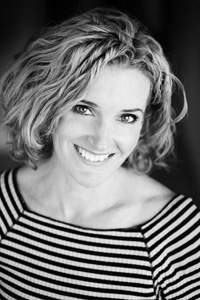 When I first heard that Amy Finley willingly gave up an opportunity as lucrative as her own cooking show, I'll admit my gut reaction was "She did what??!!". Without giving away too much, I can say that by the end of the book I "got" it.
We catch up with Amy not long after leaving her television career. She, her husband and two small children have moved to France in an effort to reclaim their family. As they eat their way from town to town throughout the French countryside, Amy vividly describes her husband bludgeoning a rabbit for dinner, her pride in observing her young son develop an appreciation for trout, and learning to "just let go" to overcome her nagging inability to whip up homemade mayonnaise. Her skillful writing brings us on this journey right alongside her. On how mussels are prepared in Normandy:
"The basic moules recipe is to take the shellfish (and Normandy has an excellent native species called the Trouville), scrub them well, and just before cooking, relieve them of their stringy beards. Then add them to a pot of sautéed shallots and garlic in good butter. (Normandy boasts beurre d'Isigny, which is naturally sweet-salty from the cows' salt marsh pasturage.) You pour over white wine, add herbs, and close the lid, and let the mussels cook in the fragrant steam. With their dying breath they open their shells and release their ocean juices, making a pot elixir that is equal parts vineyard and seashore."
The book is very "real". Family situations aren't always happy. Dining experiences are not always delicious (and occasionally descend into vomiting). But that's what makes this a memoir – it's an account of her thoughts, experiences and struggles during a time of great personal and professional transition. It thoroughly intrigued me.
Win a copy of How to Eat a Small Country, by Amy Finley!
Here are four ways to enter, you can do any or all of them (please leave separate comments for each entry):
Leave a comment on this post telling us the Food Network personality (past or present) with whom you would most like to travel on a foodie adventure.
"Like" Cooking on the Side on Facebook
Follow me @paninikathy on Twitter
The giveaway will close this Friday, May 27, 2011 at noon PDT. [THE GIVEAWAY HAS CLOSED] I will use random.org to select one winner to receive a copy of How to Eat a Small Country and announce the winner in this post. Due to shipping costs, the prize can only be shipped to U.S. and Canadian addresses.
**UPDATE 5/31/11 – Congratulations to our winner, entry #10 – Julie!
I received free review and giveaway copies of the book from the publisher, but all opinions in this post are my own.