Food blogging is an amazing pastime for someone like me who loves to celebrate holidays. It seems like there's always some kind of special occasion happening in the world, and along with it usually comes special food. We've just come off of Super Bowl and Valentine's Day cooking; this week you'll now find a lot of us food bloggers are turning to Chinese New Year and Mardi Gras. It never ends (and for that I'm grateful).
We had a little taste of Mardi Gras at our house this weekend as I tried out this Red Beans and Rice recipe I found on a package of dried beans. The good news is that it's a very tasty dish – hearty and flavorful, with a good amount of heat from the Andouille sausage. But it might be more "inspired by" the traditional recipe rather than strictly authentic. Normally, the beans would be served on top of the rice, rather than all mixed in. And I'm not sure how authentic it is to use a taco seasoning packet (as a general rule, I try to use individual spices rather than packaged blends that sometimes contain other non-spice ingredients). That said, unlike the traditional dish this version can all be made in one pot – a real benefit, especially if you're preparing an array of dishes to celebrate the holiday.
* If you're planning to make this recipe for Mardi Gras this year, be sure to set out your beans to soak Monday night!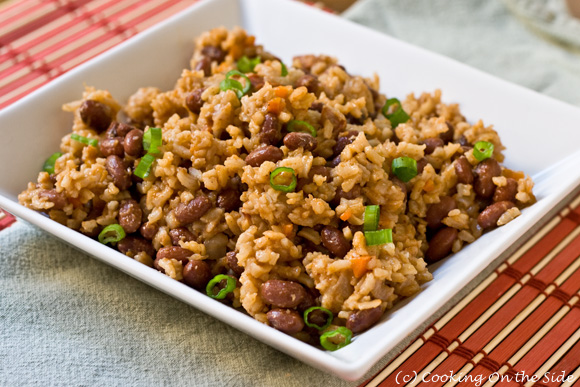 Red Beans and Rice
Adapted slightly from the back of the Safeway Small Red Beans package
Makes 6 servings
INGREDIENTS:
1 lb. small red beans
1 tablespoon olive oil
2 large onions, chopped
4 cloves garlic, minced
2 large carrots, finely chopped
1 package (1.25 oz) taco seasoning mix
3 cups chicken or vegetable broth
3 cups water
1 1/2 cups uncooked long grain white rice
1/2 lb. smoked sausage (I used Andouille), quartered lengthwise and sliced (optional)
Salt to taste
Green onions, chopped (for garnish)
DIRECTIONS:
Sort and wash beans in a colander under cold running water. Soak beans overnight with 6 cups of water in a heavy sauce pan. Drain.
In a 4 to 6 quart soup pot, heat oil until hot. Sauté onions, garlic and carrots over medium heat until onions are soft, about 10 minutes, stirring occasionally. Stir in taco seasoning mix. Add beans, broth and water. Bring to a boil, reduce heat and simmer, uncovered, for 35 minutes or until beans are barely tender. They should still be crunchy.
Stir in rice and sausage, if using. Bring to a boil, reduce heat and simmer, covered, for 30 minutes or until rice and beans are tender and most liquid is absorbed. Season to taste. Garnish with green onions.