Bacon has been a bit overhyped lately…but not for lack of a good reason. The truth is bacon really does impart such an irresistable smoky, salty flavor to so many foods. I unabashedly still love bacon, especially when it's paired with something sweet. If you're with me, you're going to want to look into these Bacon Wrapped Sweet & Sour Meatballs the next time you're in need of a crowd-pleasing hot appetizer. Like, say, for watching the Super Bowl?
The combination of the bacon with the pineapple-based sweet and sour sauce is what had me popping several of these little meatballs right before dinner the other day. The flavors are amazing together. The recipe, from a package of Farmer John ground pork, calls for mixing milk-soaked white bread in with the meat for a fluffier texture. Next time I'll try to drain a bit more of the milk out before mixing as my meatballs were so fluffy they bordered on mushy. But, of course, the crisp bacon wrapped around the outside more than made up for that minor detail.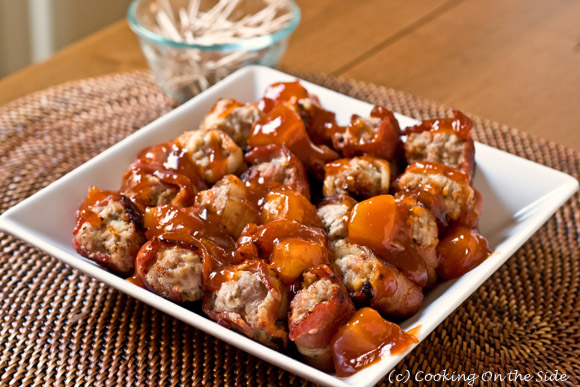 Bacon Wrapped Sweet & Sour Meatballs
From the Farmer John California Natural Extra Lean Ground Pork package
Serves 6
INGREDIENTS:
Meatballs
1 lb. ground pork
3 slices crustless white bread
1/2 cup milk
1/4 teaspoon salt
1/4 teaspoon garlic powder
1/2 teaspoon ground pepper
10 slices bacon, cut in half
1 tablespoon vegetable oil for frying
Wooden toothpicks for securing bacon
Sweet & Sour Sauce
1 teaspoon vegetable oil for frying
1 – 8 1/4 oz. can pineapple chunks in heavy syrup, juice reserved
2 tablespoons cornstarch
1/2 cup brown sugar
Pinch salt
1/4 cup rice wine vinegar
1/4 teaspoon garlic powder
1/4 teaspoon fresh ginger
6 tablespoons ketchup
6 tablespoons reserved pineapple juice
DIRECTIONS:
For meatballs: Tear apart the bread into small pieces, soak in milk and mash well in small bowl. In medium bowl, mix the ground pork with salt, garlic powder and pepper, stirring with fork. Drain off the excess milk from the mashed bread and mix with the meat. Make meatballs 1″ in diameter. Wrap 1/2 slice of bacon around each meatball. Use half a toothpick for each meatball to secure the bacon to the meatballs. Heat oil in a large skillet over medium heat. Cook meatballs 20-22 minutes until bacon is slightly crisp, turning frequently. Drain on paper towels. Remove toothpicks.
For sauce: Heat oil in medium saucepan. Add the pineapple and cook over medium heat for 1 minute. Add all the remaining sauce ingredients to the pan and bring slowly to a boil stirring continuously until thickened. Allow to simmer 1 minute or until completely clear.
Arrange meatballs on serving platter. Pour sauce over the meatballs. Serve while warm.