These were just too cute to pass up. I went to the store intending to buy ingredients for regular Rice Krispies Treats and found the recipe for these little footballs instead. If you're looking for a fun snack to serve during the Super Bowl, these are it.
You have to love a recipe that calls for you to "use buttered hands", right? And you should definitely heed that advice, by the way, as this concoction of marshmallows, peanut butter and rice cereal is the absolute stickiest I have ever encountered in my life.
Oh but they taste really good, you should definitely make them. Just get ready for sticky.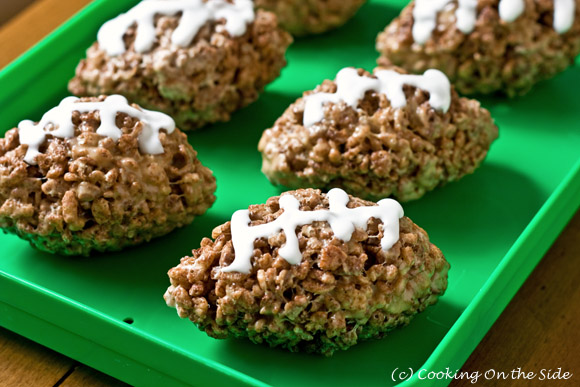 Cocoa Rice Krispies Football Treats
From the back of the Kellogg's Rice Krispies cereal box
Makes 16 footballs
INGREDIENTS:
3 tablespoons butter or margarine
1 package (10 oz., about 40) regular marshmallows – OR – 4 cups miniature marshmallows
1/2 cup peanut butter
6 cups chocolate flavored crisped rice cereal (such as Cocoa Rice Krispies®)
Canned frosting or decorating gel
DIRECTIONS:
In large saucepan melt butter over low heat. Add marshmallows and stir until completely melted. Remove from heat. Stir in peanut butter until melted.
Add cereal. Stir until well coated.
Cool slightly. Using buttered hands shape mixture into sixteen 3-inch footballs. Decorate with frosting. Best if served the same day.
MICROWAVE DIRECTIONS:
In microwave-safe bowl heat butter and marshmallows on HIGH for 3 minutes, stirring after 2 minutes. Stir until smooth.
Add peanut butter, stirring until melted.
Follow steps 2 and 3 above. Microwave cooking times may vary.
Notes:
For best results, use fresh marshmallows.
1 jar (7 oz.) marshmallow creme can be substituted for marshmallows.
Diet, reduced calorie or tub margarine is not recommended.
Store no more than two days at room temperature in airtight container. To freeze, place in single layer on wax paper in airtight container. Freeze for up to 6 weeks. Let stand at room temperature for 15 minutes before serving.