I never ate cake until I was 8 or 9 years old. But I sure ate a lot of frosting! I was that kid at birthday parties who hopped up and down when the corner piece – the one with the profuse amount of frosting flourishes – was being passed out. I'd extract every last bit of sugary, fluffy stuff and leave the cake on the little paper plate. It wasn't until the middle of my elementary school years that a frustrated parent of a friend finally urged me to try just a bite of the cake "just this once" that I discovered the treat I was missing.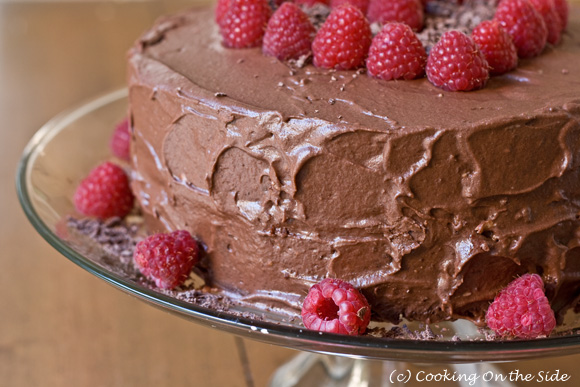 Suffice it say I've eaten plenty of cake – and frosting – this week as we've made our way through this incredibly rich and decadent Chocolate Fudge Layer Cake. I did give away several pieces to friends, but this is definitely one time I did not mind having leftovers one iota. The cake itself was incredibly moist and chocolate-forward, if that's a real term. It's actually Ghirardelli's Grand Fudge Cake and Chocolate Buttercream Frosting recipes, along with a layer of raspberry preserves for the filling. Hopefully you can see the little chocolate shavings in the center of the little raspberry heart I made. One of these days I'll take a real cake decorating class. 🙂
Happy Valentine's Day!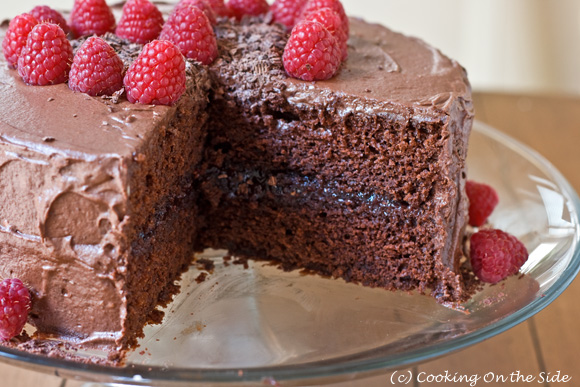 Chocolate Fudge Layer Cake
From the Ghirardelli Grand Fudge Cake recipe on the side of the Ghirardelli Unsweetened Cocoa container
INGREDIENTS:
2 cups all purpose flour
3/4 cup unsweetened cocoa
1 teaspoon baking powder
1 teaspoon baking soda
1/2 teaspoon salt
1 cup butter or margarine, softened
1 3/4 cups sugar
2 teaspoons vanilla
2 large eggs
1 1/3 cup milk
Raspberry preserves (for filling)
Chocolate Buttercream Frosting (see recipe below)
Raspberries (for garnish)
1 dark chocolate bar, peeled into shavings with a vegetable peeler (for garnish)
DIRECTIONS:
Preheat oven to 350°F. Grease and lightly flour two 9″ x 1-1/2″ round cake pans.
In a medium bowl, combine flour, cocoa, baking powder, baking soda and salt; set aside. In a large bowl, cream butter and sugar on medium high speed until light and fluffy, about 4 minutes. Reduce speed to low and add vanilla and eggs one at a time, scraping bowl after each addition. Alternately add flour mixture and milk (starting and ending with the flour mixture), while mixing on low speed. Continue to mix until smooth. Pour into prepared pans. Bake for 30-35 minutes or until a cake tester inserted in the center of cake comes out clean.
Cool cakes on wire racks completely. Remove one cake from its pan and place it, bottom side up, on serving plate. Spread a generous amount of raspberry preserves on top of the cake. Remove the other cake from its pan and place it, bottom side down, on top of the preserves. Frost the top and sides of the cake with chocolate buttercream frosting. Garnish with raspberries and dark chocolate shavings.
Chocolate Buttercream Frosting
From the Ghirardelli Buttercream Frosting recipe on the side of the Ghirardelli Unsweetened Cocoa container
INGREDIENTS:
6 tablespoons butter, softened
2 2/3 cups confectioners' sugar
1/2 cup unsweetened cocoa
1/3 cup milk
1/2 teaspoon vanilla extract
DIRECTIONS:
In bowl, beat butter until light and fluffy. In a separate bowl, mix confectioners' sugar with cocoa. Blend sugar mixture with butter alternately with milk, beating well after each addition. Beat until smooth. Blend in vanilla. Frosts tops and sides of two 9″ layers.