A little over six years ago my then-boyfriend and I were renting a condo in southern Orange County. One Sunday afternoon, after friends who had joined us for brunch had left, Mike suggested we go for a walk on the beach. This was the second time he'd made such a suggestion that weekend. The previous afternoon when he'd asked I had a banging headache and declined. He seemed kind of persistent on this…I said sure.
And, like any smart gal in her early thirties who had been dating her boyfriend for three years and was on "ring watch", I grabbed my camera.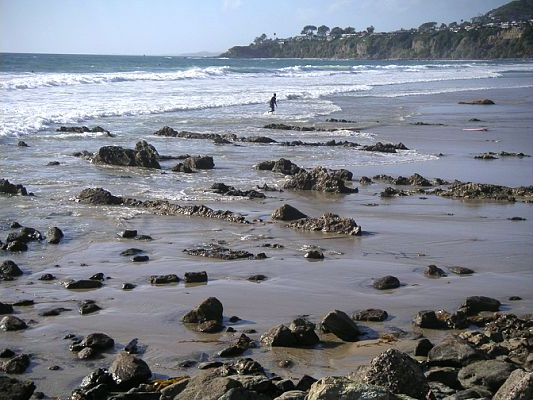 It was one of those picture-perfect southern California afternoons, complete with a cloudless sky and gentle ocean breezes. We ventured out to Salt Creek Beach in Laguna Niguel, near the Ritz-Carlton. Mike walked a little bit ahead of me, surveying the scene of sunbathers and surfers. He seemed to be looking for something. Like a specific place.
A place where he would get down on one knee…and ask me to marry him.
It really does seem like just yesterday to both of us, but Mike and I will be celebrating our fifth wedding anniversary this week. The Riedel wine tumblers that I used to serve today's Panna Cotta with Balsamic Strawberries were actually wedding gifts that I finally just took out of their boxes for the first time this weekend. Bringing out the glasses to display these cool, white, creamy pillows and their balsamic-drenched sweet toppers brought back fond memories of that exciting time when we got married.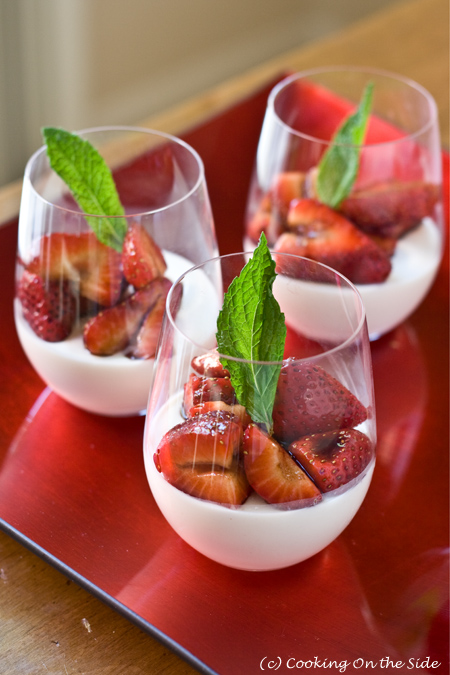 Panna Cotta with Balsamic Strawberries
From the Panna Cotta Parfait with Balsamic Strawberries recipe on the back of the Kroger unflavored gelatin package
Prep time: 10 min | Cook time: 10 min | Total time: 3 hr 20 min (including chill time)
Yield: 6 parfaits
INGREDIENTS:
1/4 cup

water

1 1/4 teaspoon

unflavored gelatin

2 cups

whipping cream, divided

3/4 cup

sugar, divided

1/4 cup

sour cream

1 teaspoon

vanilla extract

1 lb.

fresh strawberries, sliced

1/4 cup

balsamic vinegar

1 tablespoon

sugar

1/2 teaspoon

lemon juice
DIRECTIONS:
Place water in a small saucepan; sprinkle gelatin over. Let stand until gelatin softens, about 10 min.
Combine 1/2 cup cream and 1/2 cup sugar in medium saucepan. Stir over low heat until sugar dissolves. Pour into large bowl. Whisk in 1 1/2 cups cream, then sour cream and vanilla just until mixed.
Stir gelatin mixture over very low heat until gelatin dissolves; whisk into cream mixture.
Place 2 slices of strawberry in each of 6 wine or martini glasses. Add cream mixture, dividing evenly. Chill until panna cotta sets, about 3 hours.
In a small saucepan combine balsamic vinegar, sugar and lemon juice. Stir over medium heat until sugar dissolves. Boil until syrup is reduced, about 3 min. Transfer to a small bowl; cool completely.
Toss remaining berries with vinegar mixture; refrigerate until ready to serve.
Spoon balsamic strawberries over parfaits before serving.