I'll try almost any recipe that has "balsamic" in the name. Balsamic vinegar is like this magical elixir that dials up the flavor of anything it touches. I'll never forget the first time I tried strawberries with balsamic vinegar – how in the world did it make them so sweet? And, of course, you can't beat the mouthwatering tang it brings to vinaigrettes and marinades.
It hadn't occurred to me to try balsamic vinegar on potatoes until I saw the suggestion on a mesh bag of potatoes. I found some pretty colorful fingerlings at Whole Foods and thought the balsamic approach might be a great way to punch up the flavor of this otherwise rather waxy variety. Using vinegar also allowed me to cut back a little on the salt without sacrificing flavor.
Well, the balsamic roasted fingerlings were fantastic. The vinegar gave the potatoes just the slightest bit of tanginess, while the olive oil made them nice and crisp. There wasn't much flavor difference among the different color potatoes, but they were definitely pretty to look at. This was one of our Easter side dishes this year and everyone loved them (my daughter especially enjoyed the purple ones. :-)).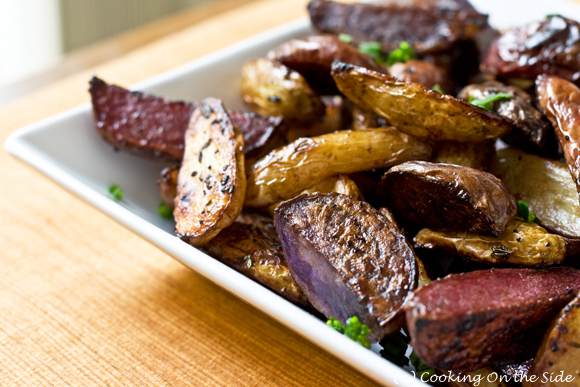 Balsamic Roasted Fingerling Potatoes
Inspired by the Roasted Balsamic Potatoes, Onions and Broccoli recipe on a bag of baby potatoes.
Prep time: 15 min | Cook time: 40 min | Total time: 55 min
Yield: 4 servings
INGREDIENTS:
1 1/2-2 lbs.

fingerling potatoes

1 1/2 tablespoons

extra virgin olive oil

2 tablespoons

balsamic vinegar

2 teaspoons

chopped fresh thyme

1/2 teaspoon

coarse sea salt

1/4 teaspoon

black pepper

2 teaspoons

chopped fresh chives
DIRECTIONS:
Preheat the oven to 400°F.
Halve the fingerling potatoes (if some are especially small, you can leave them whole; you want them all to be about the same size in order to roast evenly).
In a large bowl, toss the potatoes with olive oil, balsamic vinegar, thyme, salt and pepper. Spread the potatoes onto a rimmed baking sheet. Roast 30-40 minutes until cooked through and crispy on the outside, stirring occasionally.
Garnish potatoes with chives before serving.